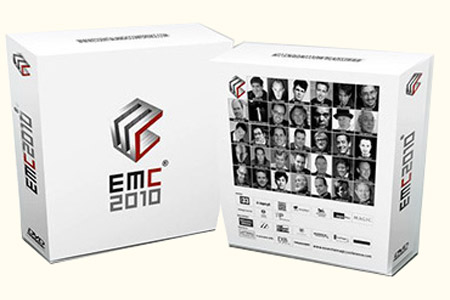 Description
L'intégrale de L'EMC (Essencial Magic Conférence) de l'année 2010 disponible dans un coffret de 8 DVD. Découvrez et apprenez les plus grands secrets de 34 meilleurs magiciens du monde comme Max Maven, Carlos Vaquera, Cyril Takayama, Finn Jon... 34 conférences de luxe s'installent dans votre salon !
En effet, l'EMC 2010 a été un "congrès virtuel de magie", qui s'est déroulé en direct par internet pendant trois jours. Les plus grands noms de la magie mondiale se sont réunis au Portugal, dans les locaux de Luis de Matos, pour cette grande première.
Voici la liste hallucinante des participants à cet incroyable événement :
- Anton Lopez,
- Apollo Robbins,
- Barry and Stuart,
- Carlos Vaquera,
- Cyril Takayama,
- Dani DaOrtiz,
- David Britland,
- De'Vo Vom Schattenreich,
- Eric Eswin,
- Eric Mead,
- Finn Jon,
- Gaetan Bloom,
- Gazzo,
- Gene Matsuura,
- Guy Hollingworth,
- Helder Guimarães,
- James Freedman,
- Jason England,
- Lennart Green,
- Luis de Matos,
- Marco Tempest,
- Max Maven,
- Miguel Angel Gea,
- Mike Caveney,
- Paul Kieve,
- Paulino Gil,
- Ponta The Smith,
- Richard McDougall,
- Richard Wiseman,
- Stan Allen,
- Ton Onosaka,
- Topas,
- William Kalush.
Imaginez toutes ces pointures ensemble pendant plusieurs jours à parler de magie… Le rêve, non ?
Eh bien ce rêve peux devenir réalité car cette série de conférences est maintenant reprise sur ces 8 DVD (en anglais) filmés en haute définition…
Faites-vous plaisir et offrez-vous la crème de la magie mondiale, que vous pourrez revoir quand vous le voudrez, dans votre salon…
8 DVd de qualité
16h de conférence à regarder chez vous
Produit par Luis de Matos

Retour au catalogue
Cet article n'est
plus vendu sur Magicaplanet