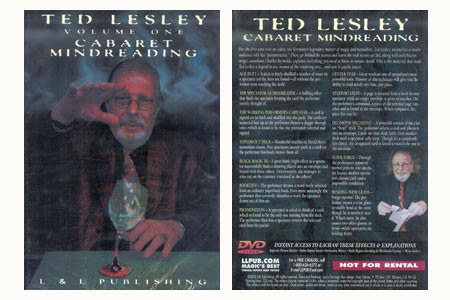 Description
Pour la première fois en Dvd,
vous allez pouvoir apprécier la légende allemande
Ted Lesley dans ces oeuvres.
Ensuite, vous allez apprendre les véritables secrets de Ted, aidé de son consultant
Charles Reynods
. Vous allez enfin comprendre toutes ses techniques dans les moindres détails.
AU SOMMAIRE :
Ace Duet :
Un tas de cartes est mélangé par un spectateur, autant de fois qu'il le désire, que déjà vous trouvez les as, sans même toucher le paquet.


The Spectator As Mindreader :
Un effet bluffant où le spectateur trouve la carte à laquelle vous avez pensé.


The working performer's card stab b:
Une carte est signée puis perdue dans le paquet. Les cartes sont alors éparpillées, et le magicien enfonce une dague à travers une carte, qui s'avère être celle précedemment choisie.


Tossed-out Deck :
5 spectateurs tirent chacun une carte. A peine est ce fait que le magician peut toutes le nommer.


Black Magic III :
!


Bookest :
Le magician devine un mot choisi par un spectateur sur un livre de poche. Encore plus impressionant, il peut deviner un mot qu'un spectateur ecrit dans le vide.


Pro-monition :
Un spectateur choisie une carte. Or il s'avère qu'elle est justement manquante dans ce paquet. Normal, elle est dans sa poche.


Center tear :Un travail sur un des outil les plus puissants du mentalisme. Arriver à manipuler cette technique vous assure la capacité à lire dans les pensées n'importe où, n'importe quand.


Teleportation :
Un spectateur choisi une page d'un livre et une enveloppe vide est donnée à un autre spectateur. A la demande du magicien, un bout de le page disparait et apparait dans l'enveloppe. En comparant, on s'appercoit que le bout correspond exactement à la page!


Decisions ! Decisions ! :
Le magicien place une carte dans une envelope. Les cartes d'un autre paquet sont alors distribuées jusqu'à ce que le spectateur dise 'stop'. Bien que ce choix soit totallement indépendant de la volonté du magicien, c'est bien la même carte que dans l'enveloppe !


Super Force :
Un spectateur trouve la carte qu'a choisi un autre spectateur. Et celà dans des conditions impossibles.


Bending Wine Glass :
Oubliez les cuillères ! Vous pouvez maintenant tordre des verrs de vin, sans même être à proximité. Encore mieux : vous tordez 2 verres de vin que tiennent 2 spectateurs.


DVD en anglais.

Durée : 125 min.

Retour au catalogue
Cet article n'est
plus vendu sur Magicaplanet