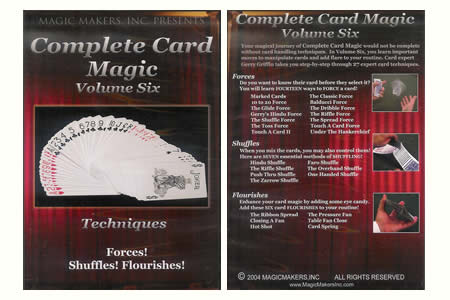 Description
Ce Dvd tiré de la Collection 'Complete Card Magic'
(véritable encyclopédie cartomagique en Dvd, que vous soyez débutant ou expert)
vous fera découvrir les bases de la cartomagie.

Chaque thème est traité dans sa totalité!
Une collection et un Dvd unique par son contenu!
Dvd Complete Card Magic Vol 6 :
Forces : plus de 10 techniques de forçage de carte !
- Marked Cards
-10 to 20 Force
- The Glide Force
- Gerry's Hindu Force
- The Shuffle Force
- The Toss Force
- Touch a Card II
- The Classic Force
- Balducci Force
- The Dribble Force
- The Spread Force
- Touch a Card Force
- Under the Handkerchief...


Shuffles : 7 méthodes de mélanges et contrôle de carte...
- Hindu Shuffle
- The Riffle Shuffle
- Push Thru Shuffle
- The Zarrow Shuffle
- Faro Shuffle
- The Overhand Shuffle
- One Handed Shuffle


Flourishes : Enrichissez vos routines avec ces 6 fioritures uniques !
- The Ribbon Spread
- Closing a Fan
- Hot Shot
- The Pressure Fan
- Table Fan Close
- Card Spring

Dvd en anglais.

Retour au catalogue
Cet article n'est
plus vendu sur Magicaplanet