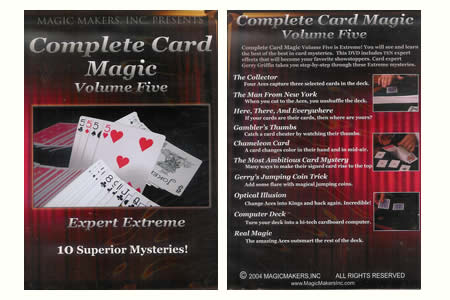 Description
Ce Dvd tiré de la Collection 'Complete Card Magic'
(véritable encyclopédie cartomagique en Dvd, que vous soyez débutant ou expert)
vous fera découvrir les bases de la cartomagie.

Chaque thème est traité dans sa totalité!
Une collection et un Dvd unique par son contenu!
Dvd Complete Card Magic Vol 5 :
The Collector :
Les 4 as retrouvent trois carte dans le tas.


The Man from New York : Quand vous coupez aux as, le jeu se remet dans l'ordre.


Here, There, and Everywhere : Si vos cartes sont celle d'un autre, alors où sont les votres ?


Gambler's Thumbs : Attrapez un tricheur juste en regardant ces pouces.


Chameleon Card : Une carte change de couleur dans la main d'un spectateur, puis dans les airs.


The Most Ambitious Card Mystery : Plusieurs façons de faire remonter la carte choisie en haut du paquet.


Gerry's Jumping Coin Trick : Ajoutez un peu de spectacle avec ces pièces sauteuses.


Optical Illusion : Changez des as en rois puis à nouveau en as !


Computer Deck : Transformez votre jeu de carte en un ordinateur hi-tech en carton...


Real Magic : Les as "dejouent" le reste du paquet.
Dvd en anglais.

Retour au catalogue
Cet article n'est
plus vendu sur Magicaplanet