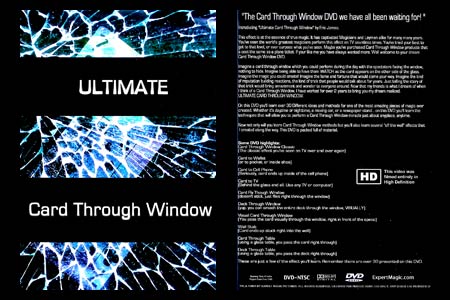 Description
Sur ce DVD, vous apprendrez plus de
30 différentes idées et méthodes
pour réaliser l'un des effets les plus étonnants de la magie.
Que ce soit de jour ou de nuit, une voiture en mouvement, ou un kiosque à journaux, les situations et les possibilités pour réaliser la carte à travers la vitre sont multiples et
adaptables à la plupart des lieux...
Sur ce DVD vous apprendrez les techniques qui vous permettront de réaliser ce miracle qui consiste à faire apparaître la carte choisie du spectateur de l'autre côté d'une vitre ou fenêtre.
Au Sommaire :

Carte à la fenêtre
(L'effet classique que vous avez vu à la télé !)
Card To Wallet
(Une version de la carte au portefeuille, ou à la poche, ou dans la chaussure)
Card to Cell Phone
(la carte choisie se retrouve à l'intérieur du téléphone cellulaire)
Card to TV
(Derrière la vitre de la télé va se retrouver la carte, utilisez n'importe quel téléviseur ou un ordinateur)
Card Fly Through Window
(la carte ne se colle pas, mais traverse simplement la vitre)
Deck Through Window
(oui, c'est possible, faites traverser un jeu entier !)
Visual Card Through Window
(une routine très visuelle entourée de spectateurs)
Wall Stab
(la carte choisie se plante sur un mur)
Card Through Table
(la carte transperce une table en verre)
Deck Through Table
(un jeu entier traverse la vitre d'une table)
Ce ne sont là que quelques-uns des effets que vous allez apprendre. Rappelez-vous qu'il y a plus de 30 routines présentés sur ce DVD.
30 routines intéressantes
DVD en anglais
Durée 47 minutes

Retour au catalogue
Cet article n'est
plus vendu sur Magicaplanet