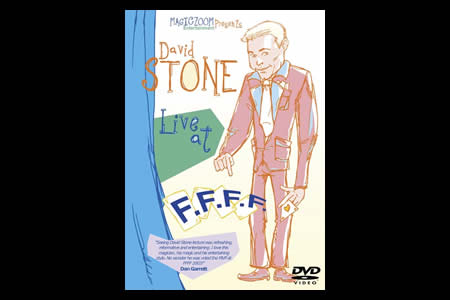 Description
Découvrez le DVD Live de la conférence de
David STONE
! Un véritable morceau d'anthologie avec de nombreuses idées de présentation, des subtilités sur l'approche professionnelle au restaurant, de nombreuses routines, plein de bonus et par dessus tout, un David Stone complètement déjanté et super drôle !
Un programme LIVE et sans coupure comme si vous étiez aux FFFF… et sous-titré en Français !
Organisée tous les ans par le légendaire Obie O' Brien, la F.F.F.F (
Fechter's Finger Flicking Frolic
) est une convention qui rassemble pendant quatre jours 250 magiciens considérés comme les meilleurs "close-up men" du monde…!
Les conditions de participation, qui sont très particulières ( il faut obligatoirement être invité pour y participer et tous les congressistes doivent présenter au moins un numéro), en font l'une des conventions les plus fermées du monde !
Voici donc en live et uncut la conférence qui a valu à David STONE d'être élu la "Most Valuable Person" lors des FFFF 2003 et profitez-en pour assister à l'une des conférences de la plus prestigieuse des conventions de magie…le tout sous-titré en Français !!!
AU SOMMAIRE :
Splash Bottle :
Tous les détails et subtilités qui facilite cette superbe apparition de bouteille en close up ou sur scène
The Mulberry Production :
une apparition de 4 dollars très simple, très trompeuse… et sans gimmick !
Double flip :
une levée double/ plaisir original pour cartomane
Snap Stone change :
une carte tenue au bout des doigts change a vue. Une variante très visuelle du Snap change de Ed Marlo
Cocoon :
le magicien pose un dollar sur le tapis, reprend la pièce pour jouer avec, puis la repose sur le tapis : Il y a maintenant 4 dollars sur la tapis ! Un superbe exemple de misdirection sur le tapis
Flash card :
Une carte s'éjecte de plusieurs mètres hors du jeu durant un riffle shuffle
The Opening trick theory :
Stone nous parle de ses réflexions sur la manière d'aborder une table lors du travail en Table hopping : Passionnant et surtout très drôle :un moment d'anthologie !
Self worked :
Le magicien ne touche pratiquement jamais le jeu et pourtant la carte pensée du spectateur disparaît pour se retrouver…Allez, on garde la surprise ! Diabolique !
Bonus :
3 routines supplémentaires - 1 technique de multi-coupe complète - une galerie Photos - des bandes annonces - A propos des FFFF - Sous-titrage en Français - Les crédits
Durée :
80 minutes environ -
Langue :
Français/Anglais.

Retour au catalogue