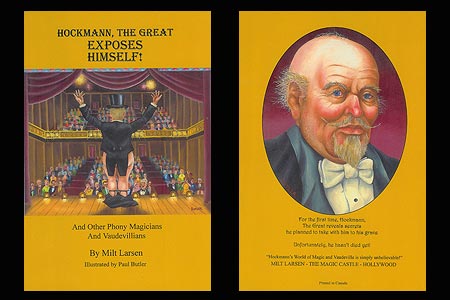 Description
Pour la toute première fois,
Hockman, The Great
nous révèle les secrets qu'il avait pourtant prévu d'emporter dans sa tombe... malheureusement, il n'est toujours pas mort !Le professeur Hockman
rompt avec la tradition
et nous révèle les secrets de ses les illusions les plus originales que tout magicien un tant soit peu respectable ne voudrait même pas connaître.Des histoires surprenantes que personne n'oserait dire, racontée dans les détails de façon drôle et attendrissante par
Milt Larsen
.
Au sommaire :
The art of exposure
Who is Hockmann?
Dai Vernon letter
Rancho Hockmann
Hockmann's age
Hockmann's holidays
Broken and restored mirror
The Hazy world of Hockmann
Amazing stonewall
Double lift

Packing box escape
Disappearing goblet
Bare stage review
Maud's memories
Superman transition illusion
The floating and vanishing elephant
Hockmann's cohorts
The scandinavian sorcerer
The jumbo rising cards
Magneto the great
Great Kiddie wonder show

Vanishing dime extravanganza
Shocking electric chair vanish
Hockmann on inventions
Vanishing flying machine illusion
The fakir's favourite hindu rope trick
The cut and restored rattlesnake
The guillotine illusion
The vanishing mustache trick
Nest of boxes
Hockmann on publicity
Unusual theaters
Klotzmeyer bijou
Atlantis aquatic theater

Hockmann on vaudeville
Unusual variety acts
The amazing nudedini
About the artist
Maude Hockmann
Langue
: Anglais,
177 pages illustrées
.

Retour au catalogue
Cet article n'est
plus vendu sur Magicaplanet