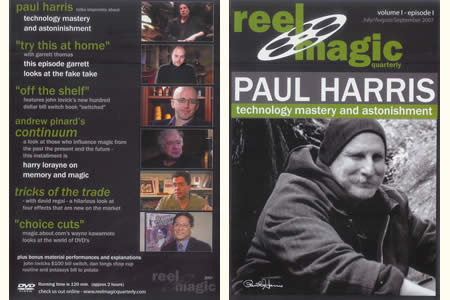 Description
Le premier épisode du premier volume de ce DVD-magazine propose des interviews ainsi que différentes présentations et réalisations d'effets.
Voyez un peu :Paul Harris
…
S'exprime librement dans une interview
"Try This At Home"
…
Thomas Garret mettra vos nerfs à rude épreuve
"Off The Shelf"
…
John Lovick et son nouveau change de billet de 100 dollars.
Andrew Pinard's Continuum
…
Andrew Pinard consacre cette rubrique aux magiciens ayant influencé l'art magique. Ici le coup de projecteur se portera sur
Harry Lorayne
.
Tricks Of The Trade
…
David Regal vous livre son avis et ses impressions sur 4 nouveautés du marché (Ladybug, etc.).
"Choice Cuts"
…
Wayne Kawamoto (magic.about.com) vous livre sa sélection de coups de cœurs du moment 's
Vous trouverez également des bonus, présentés et expliqués dans le détail
…
- John Lovick's $100 bill switch (Le change de Billet de John Lovick)
- Dan Tongs Chop Cup routine (La routine Chop Cup de Dan Tong)
- Potassys bill to potato (Le billet dans la pomme de terre de Potassy)
Langue
: Anglais,
Durée
: 2h00

Retour au catalogue
Cet article n'est
plus vendu sur Magicaplanet