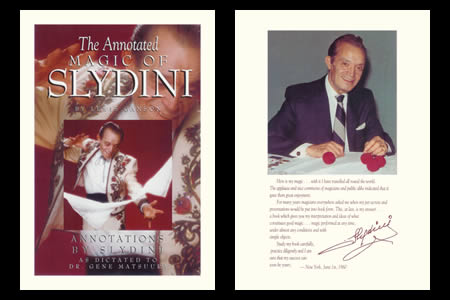 Description
Depuis longtemps épuisé, « The Magic of Slydini » de Lewis Ganson, est certainement un des ouvrages de référence les plus influents en la matière.
Bon nombre de ses routines sont devenues de classiques de la magie tells que Flight of the Paper Balls (Vol des boulettes de papier), Helicopter Card ( Carte hélicoptère), Coins Through The Table (Pièces à travers la table), Slydini`s Knotted Silks (Foulards noués de Slydini), The Paper Balls in the Hat (Boulettes de papier dans le chapeau), etc.
Dans cette nouvelle édition, Slydini apporte de nouveaux commentaires à ses créations.
Il y a quelques temps, Gene Matsuura a revu le texte de l'ouvrage de Ganson en compagnie de Slydini et a minutieusement noté les apports et observations du magicien.
The Annotated Magic of Slydini propose le
texte original de Lewis Ganson
(identique jusqu'au moindre mot), en noir,
complété des commentaires et corrections de Slydini
, en bleu, qui confèrent à l'ouvrage une valeur inestimable, y compris pour ceux possédant déjà l'ouvrage original.
Au sommaire :
The art of using the lap as a servante – Position and timing

The art of using the lap as a servante – Misdirection

The paper balls in the hat

Slydini's new cigarette miracle

Two cigarettes from on

Ciragette fantasy

Sponge ball magic

Coins though the table

Slydini's new version of the coins through table

The flight of the paper balls

Rope trickery

The helicopter card

Slydini's knotted silks

Slydini's torn and restored newspaper


Langue: Anglais, 312 pages illustrées



Retour au catalogue
Cet article n'est
plus vendu sur Magicaplanet