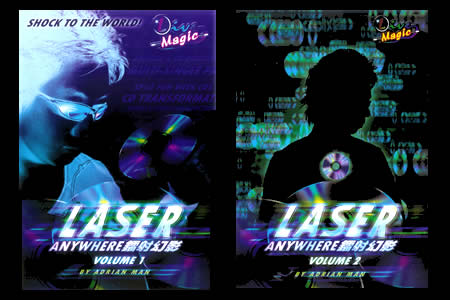 Description
« Laser Anywhere »
est un cours complet sur la
Manipulation de CD
.
« Adrian Man a remis à jour bon nombre des techniques de mouvements des mains pour les publics actuels.
Ses DVD de manipulation de CD font partie des meilleurs supports que l'on puisse trouver à ce sujet. Je les conseille à tous les étudiants des manipulations scéniques. »
Jeff McBride
- Las Vegas Headliner
Volume 1
Dans le
Volume 1
,
Adrian Man
, un magicien récompensé à Hong Kong, vous apprendra tout ce que vous devez savoir sur la manipulation de CD.
Adrian traite de tous les sujets de la manipulation de CD notamment des
Empalmages, Productions, Charges, Décharges, etc.
De surcroît Adrian vous apprend pour la toute première fois les routines
« Split Fan Production with CDs »
et
« Jumbo CD Production »
, qui sont des éléments phares de son spectacle récompensé !
Au sommaire :


Introduction

Tenkai Palm

Perfect Palm

Waist Palm

Toss Vanish

Flash Vanish

Drop Vanish

Knock Vanish & Production

Perfect Single Production

Tenkai Single Production

Perfect Multi-Production

CD Transfer

3 CDs Vanish & Production

CD Vanish & Production with Silk

4 CDs Production Routine with Silk

Color-Changing CD #1

Color-Changing CD #2

CD Fanning

Split Fan with CDs

Mini-CD to CD

Flash-Paper to CD

CD to Confetti

CD Holder

Body Steal

Jumbo CD Production Routine

CD Manipulation Routine #1

CD Manipulation Routine #2

Adrian's CD Routine



Langue
: Anglais, Cantonais,
Durée
: 1h35
Volume 2
Dans le
Volume 2
de « Laser Anywhere », Adrian se focalise principalement sur la
manipulation de Mini CD
.
Vous découvrirez que les techniques de manipulation de Mini CD et de CD sont complètement différentes. Adrian vous enseignera chaque technique de manipulation de Mini CD notamment
L'empalmage, Le transfert, La transformation, etc.
Aux travers des explications limpides d'Adrian, vous serez capable d'apprendre facilement toutes les techniques pas à pas. Vous pourrez même appliquer ces techniques à la manipulation de pièces jumbo.
Au sommaire :


Mini-CD Tenkai Palm

Mini-CD Perfect Palm

Mini-CD Back Palm

Mini-CD Tenkai Production

Mini-CD Perfect Production

Mini-CD Tenkai Multi-Production

Mini-CD Perfect Multi-Production

Mini-CD Back Palm Vanish & Production

Mini-CD Split Production

Mini-CD Toss Vanish

Mini-CD Retention Vanish

Mini-CD Transfer

Transposition #1

Transposition #2

Mini-CD Transposition

CD to Mini-CD with CD Case

Ball to Mini-CD

Mini-CD Acquitment

Mini-CD Routine



Langue
: Anglais, Cantonais,
Durée
: 55 min

Retour au catalogue
Cet article n'est
plus vendu sur Magicaplanet