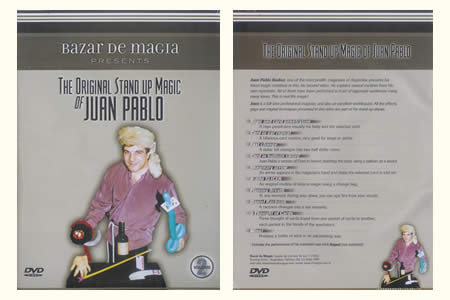 Description
Un DVD avec des routines originales et des effets signés Juan Pablo, l'esprit le plus novateur de l'Amérique Latine. Un peu de close-up, de parloir et de scène qu'il a préalablement présenté sur scène pour ses propres spectacles.
Juan Pablo Ibañez est un des magiciens d'Argentine les plus productifs à l'heure actuelle. Il vous explique quelques unes des routines de son répertoire personnel sur ce DVD.
Voici de la magie réelle expliquée !!
Au sommaire :


Rope and card penetration

Card In Ear Repeat

Fast Change

card in balloon sword

Immaginary Arrow

0-800 SLICER

Flaming Breath

Daniel Racboon

3 Thought Of Cards

Wine!



Langue
: Anglais,
Durée
: 1h14

Retour au catalogue
Cet article n'est
plus vendu sur Magicaplanet