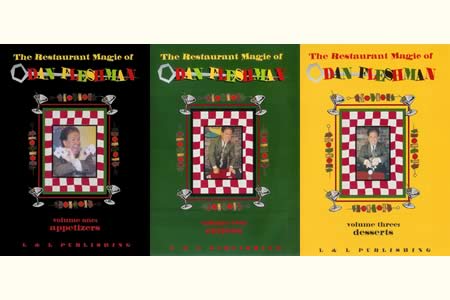 Description
Dan Fleshman
est un professionnel du close-up depuis maintenant plus de 20 ans. La pratique de la magie dans les restaurants est depuis toujours au centre de ses activités de magie.
La magie que vous présente Dan est extraite de son répertoire de travail et tous les tours présentés sont issus du milieu incandescent des performances réelles dans un milieu parfois hostile.
Voici des tours de close-up avec lesquels Dan étonne grandement son public nuit après nuit et qui maintenant sont les vôtres !
Dans cette série de 3 DVDs,
Dan vous présente ses meilleures routines.
Pour certaines tablées, Dan plonge dans son large répertoire pour en ressortir quelques joyaux.
Tous ces tours se font a proximité et permettent de surprendre le public le plus sceptique.
The Restaurant Magic of Dan Fleshman vol.1

Dan's Rope Routine
Une superbe routine d'ouverture composée de la magie des cordes est des anneaux la plus visuelle qu'il n'ait jamais été donné de voir.

Real-World Multiplying Rabbits
Un classique de la magie, adoré par les petits comme par les grands.

Ring and String Flight
Une bague empruntée se transforme visiblement en la bague du magicien qui s'enclave et se désenclave à loisir avec une corde d'une façon très étrange. La routine est à son apogée lorsque la bague du spectateur est retrouvée sur le porte-clés du magicien.

Ace Production
Dans une démonstration de foulards éclatante, quatre as semblent voler depuis un jeu de cartes mélangé.

Ever Changing Aces
Les as rouges deviennent noirs et ce dans la transparence la plus totale. Ne clignez pas des yeux, vous manquerez le tour !

Bullet For a Cowboy
Les as se changent un par un en l'as de pique. L'effet est étonnant lorsque les cartes sont soudainement devenues des rois !

Four The Easy Way
Deux as sont tirés d'un jeu mélangé. Le troisième as est choisi librement par un spectateur. Un second spectateur choisit une quatrième carte qui malheureusement ne correspond pas au quatrième as. Cependant le magicien transforme cette dernière carte en l'as restant.

Maxi Twist Twist
Un spectateur choisit une carte qui est ensuite perdue dans le jeu. Le magicien présente alors les quatre as qui se retournent mystérieusement un par un. L'as de la même couleur que la carte choisie se retourne mystérieusement puis se transforme en la carte en question. Les as restants sont alors retournés : ce ne sont plus des as mais des quartes qui, réunies aux autres, forment une suite royale !

Three Card Trick
un spectateur compte lentement trois cartes dans la main du magicien. Cependant lorsqu'il recompte les cartes, une quatrième est trouvée. Le magicien met de côté cette carte cependant lorsque le spectateur recompte il y a toujours quatre cartes. Ce petit manège d'erreurs est répété plusieurs fois puisqu'à chaque fois il y a quatre cartes. L'effet est amusant lorsque le magicien retourne les cartes et montre qu'il s'agit des quatre trois.

Momma in My Wallet
Une merveilleuse combinaison du classique Card to Wallet avec le concept du Red Hot Momma. Le dos d'une carte choisie et signée par un spectateur change de couleurs. La carte est placée sur la table et le spectateur en choisit une seconde. La carte sur la table se transforme en la seconde carte choisie alors que la première carte est retrouvée dans le portefeuille du magicien que le spectateur tient en main depuis le début du tour.


Langue : Anglais, Durée : 87 min.



The Restaurant Magic of Dan Fleshman vol.2

Ace Production
Des cartes face visible sont mélangées avec des cartes face cachée lorsque les as sont produits de façon très étrange. L'effet est étonnant lorsqu'à la fin les cartes sont dans le bon ordre.

Oil Slick
Une routine de cartes Oil and Water qui dupera assurément le public.

Chameleon Aces and Kings
Les quatre as se changent l'un après l'autre en rois au bout des doigts du magicien. Les quatre as sont ensuite retrouvés face vers le haut à quatre emplacements différents dans le jeu qui se trouve sur la table.

Vanishing Aces
Les quatre as sont placés face vers le haut sur le dessus du jeu et disparaissent l'un après l'autre avant d'être retrouvés au milieu du jeu, une carte nommée par le magicien se trouvant entre chacun de ces as.

PDQ Aces
Un jeu magique du gendarme et du voleur dans lequel les as, isolés dans un étui de cartes subtilisent trois cartes choisies perdues dans le jeu.

Some Prediction
Une carte est choisie puis signée. Une seconde carte est mise de côté par le magicien en guise de prédiction. La carte choisie est mélangée parmi les quatre as puis disparaît. La carte du magicien s'avère être celle choisie et signée !

Magic Cards
Trois cartes sont choisies dans un jeu à dos bleu. Le magicien présente trois cartes à dos rouge portant la mention « Magic Cards » (cartes magiques). Ces trois cartes en question sont placées sur chacune des cartes choisies et se transforment en leur double. Pour finir en apothéose, le jeu à dos bleu est maintenant constitué de cartes à dos rouge portant la mention « Magic Cards ».

Twins
La version personnelle de Dan du classique de Brother John Hamman, complétés d'un final époustouflant !

Sorry You Lose
Une routine de paris dans laquelle le spectateur est incapable de retrouver la trace de deux as et de deux trois. Le spectateur a une dernière chance de deviner de deviner quelles sont les cartes que tient en main le magicien. Il est bien surpris de constater que ce sont maintenant les quatre rois !

Flushed Out
Quatre reines et un as se changent en une suite royale.

Back and Forth Sandwich
Deux cartes sont choisies. Une carte est perdue dans le jeu et la seconde est posée sur la table entre deux rois. Le magicien passe ses mains au dessus des cartes se trouvant sur la table : les rois ont disparu et sont retrouvés face vers le haut dans le jeu et avec la carte choisie entre eux.

Freeman Twist / Twilight Zone
Une carte choisie remonte le temps pour prendre la place de la carte du magicien. En remontant encore plus le temps, le jeu face vers le bas se retourne instantanément et se retrouve face vers le haut ! Un effet hautement visuel.

Jumbo Prediction
Une carte librement choisir correspond à une carte géante se trouvant dans une enveloppe précédemment donnée à un spectateur. Un routine impressionnant au final comique.


Langue : Anglais, Durée : 75 min.



The Restaurant Magic of Dan Fleshman vol.3

Close-Up Linking Rings
La version que nous propose Dan de ce classique de la magie retient toute notre attention notamment parce qu'il est parfaitement adapté aux tours de close-up et de rue. Cinq anneaux en acier se mélangent les uns avec les autres à quelques centimètres des spectateurs. Cela ressemble à de la magie pure ! Et Dan vous dévoile tous ses secrets!

Rolllover Production
Quatre demi dollars sont étrangement produits l'un après l'autre lorsque le magicien retourne une carte ordinaire quatre fois d'affilée.

Matrix
Une version en trois étapes du classique des pièces, le matrix. Quatre demi dollars se retrouvent sous une seule et même carte. L'effet est ensuite reproduit mais les pièces retrouvent cette fois-ci leur place initiale. Enfin, avec une simple carte, les pièces s'assemblent puis retrouvent leur position d'origine.

Coins To Glass
Un tour parmi les favoris du public. Des pièces disparaissent de la main du magicien et apparaissent les unes après les autres dans un verre.

Crayon Thru .25
Un crayon passe visiblement au travers d'une pièce. Vous pouvez dès à présent proposer ce tour à tous, petits et grands.

Cups and Balls
Le classique de Dan : la routine du Fleshman Flash – avec un final époustouflant que vous regarderez encore et encore.

BONUS! The Chinese Linking Rings (les anneaux chinois) - Version Close-Up
voici la vidéo des mini anneaux chinois que Dan a proposé il y a quelques années. Regardez Dan évoluer devant un restaurant au complet pour un public bel et bien réel, admirant sa version des anneaux chinois. Vous trouverez ensuite l'explication de la routine des anneaux.



Langue : Anglais, Durée : 103 min.
Retour au catalogue
Cet article n'est
plus vendu sur Magicaplanet