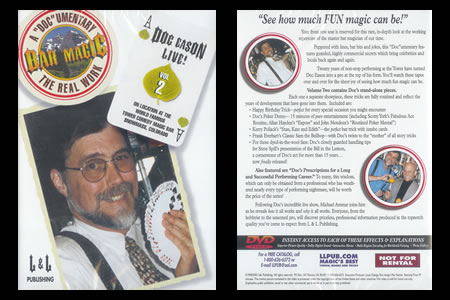 Description
Réservez une place au premier rang pour admirer cette présentation unique et en profondeur du répertoire du
meilleur des magiciens de bar
de notre époque.
Agrémenté d'explications, de scènes de bar et d'humour, ce « Doc »umentaire vous dévoile des secrets hautement confidentiels qui interpelleront autant les confirmés que les débutants.
Vingt années de prestations continues au Tower ont fait de Doc Eason un professionnel au meilleur de sa forme. Vous apprécierez de revisionner sans cesse ces DVD pour le simple plaisir de constater
ô combien la magie peut être amusante.
Le
volume 2
vous propose des routines indépendantes.
Chacune constitue un véritable chef d'oeuvre, les tours sont très bien enchaînés et reflètent les années d'investissement du magicien.
Au sommaire :


Happy Birthday Trick

Doc's Poker Demo

Kerry Pollack's "Stan, Kate and Edith"

Frank Everhart's Classic Sam the Bellhop

For those dyed-in-the-wool fans (pour les fans inconditionnels) : Voici les conseils de manipulation de Doc Eason pour la présentation de Steve Spill de la routine Bill in the Lemon (le billet dans le citron), un des piliers des performances de Doc pendant plus de quinze ans… et finalement dévoilés !



Vous trouverez également les conseils de Doc pour bien réussir sa carrière dans "Doc's prescriptions for a long and successful performing carreer
Langue
: Anglais,
Durée
: 1h37

Retour au catalogue
Cet article n'est
plus vendu sur Magicaplanet