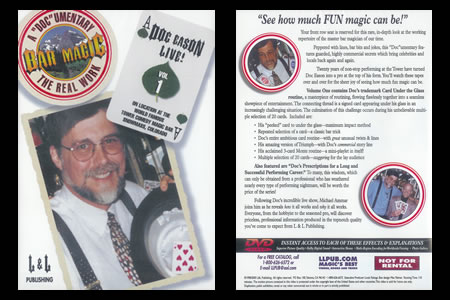 Description
Réservez une place au premier rang pour admirer cette présentation unique et en profondeur du répertoire du
meilleur des magiciens de bar
de notre époque.
Agrémenté d'explications, de scènes de bar et d'humour, ce « Doc »umentaire vous dévoile des secrets hautement confidentiels qui interpelleront autant les confirmés que les débutants.
Vingt années de prestations continues au Tower ont fait de Doc Eason un professionnel au meilleur de sa forme. Vous apprécierez de revisionner sans cesse ces DVD pour le simple plaisir de constater
ô combien la magie peut être amusante.
Volume 1
vous propose d'apprendre la célèbre routine
Card under the glass
(la carte sous le verre), une routine de choix, habilement enchaînée sans aucune couture. Un véritable moment de divertissement.
Le fil directeur repose sur une carte signée qui apparaît sous un verre dans des situations chaque fois plus difficiles. L'apogée de ce challenge au cours d'un choix extraordinaire de 20 cartes.
Au sommaire :


His "peeked" card to under the glass

Repeated selection of a card

Doc's entire Ambitious Card routine

His amazing version of Triumph

His acclaimed 3-Card Monte routine

Multiple selection of 20 cards

Vous trouverez également les conseils de Doc pour bien réussir sa carrière dans "Doc's prescriptions for a long and successful performing carreer"
Langue
: Anglais,
Durée
: 1h50

Retour au catalogue
Cet article n'est
plus vendu sur Magicaplanet