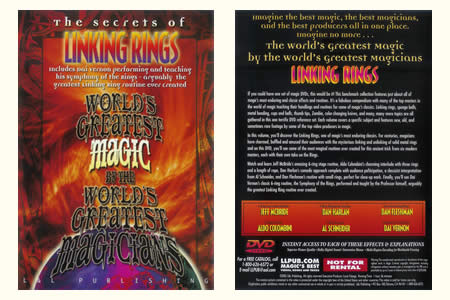 Description
Si vous deviez posséder une seule collection de DVD sur la magie ce serait celle-ci !
Cette collection de référence reprend
les meilleurs effets et routines de la magie.
C'est un fabuleux recueil dans lequel de nombreux maîtres magiciens vous apprennent leurs mouvements et routines pour quelques classiques de la magie.
Anneaux chinois, balles éponges, torsion du métal, balles et gobelets, faux pouces, zombie, canifs caméléons et de très nombreux autres sujets sont tous abordés dans cette impressionnante collection de DVD de référence.
Chaque volume couvre un sujet spécifique et vous proposes quelques morceaux modernes, anciens et d'anthologie des meilleures vidéos de la magie.
Vous allez découvrir dans ce volume les
Anneaux Chinois
, un des style de magie les plus anciens.
Depuis de nombreux siècles les magiciens ont enchanté, surpris et amusé leur audience avec les anneaux qui s'enclavent et se désenclavent. Vous allez dorénavant pouvoir admirer
les routines les plus magiques
jamais crées de ce tour ancestral que vous propose six maîtres contemporains de leur regard personnel.
Regardez et apprenez la routine originale à 6 anneaux sur scène de
Jeff McBride
, l'interlude enchanteur d'
Aldo Colombini
avec trois anneaux et une corde, l'approche comique de
Dan Harlan
qui implique le public, l'interprétation classique du tour par
Al Schneider
, ainsi que la routine avec des mini anneaux de
Dan Fleshman
, idéale pour le close-up.
Enfin vous pourrez regarder la routine classique à 6 anneaux de
Dai Vernon
, the Symphony of the Rings (La Symphonie des anneaux), réalisée par le maître lui-même, sans conteste la meilleure routine d'anneaux jamais crée.
Au sommaire :


JEFF MCBRIDE
- 6 Ring Commando Routine


ALDO COLOMBINI
- 3 Ring Routine


DAN HARLAN
- 8 Ring Ringmaster Routine


AL SCHNEIDER
- 5 Ring Routine


DAN FLESHMAN
- Close-Up Linking Rings


DAI VERNON
- Symphony of the Rings



Langue
: Anglais,
Durée
: 1h56

Retour au catalogue
Cet article n'est
plus vendu sur Magicaplanet