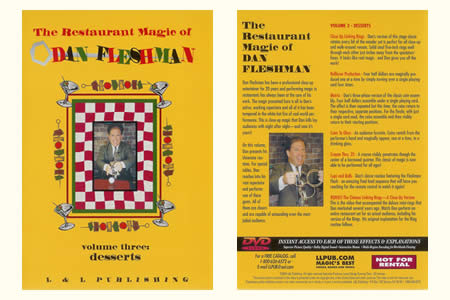 Description
Dan Fleshman est un professionnel du close-up depuis maintenant plus de 20 ans. La pratique de la magie dans les restaurants est depuis toujours au centre de ses activités de magie.
La magie que vous présente Dan est extraite de son répertoire de travail et tous les tours présentés sont issus du milieu incandescent des performances réelles dans un milieu parfois hostile.
Voici des tours de close-up avec lesquels Dan étonne grandement son public nuit après nuit et qui maintenant sont les vôtres !
Dans cette série de 3 DVD, Dan vous présente ses meilleures routines. Pour certaines tablées, Dan plonge dans son large répertoire pour en ressortir quelques joyaux.
Tous ces tours se font a proximité et permettent de surprendre le public le plus sceptique.
Volume 3 – Desserts

Close-Up Linking Rings
La version que nous propose Dan de ce classique de la magie retient toute notre attention notamment parce qu'il est parfaitement adapté aux tours de close-up et de rue. Cinq anneaux en acier se mélangent les uns avec les autres à quelques centimètres des spectateurs. Cela ressemble à de la magie pure ! Et Dan vous dévoile tous ses secrets!

Rolllover Production
Quatre demi dollars sont étrangement produits l'un après l'autre lorsque le magicien retourne une carte ordinaire quatre fois d'affilée.

Matrix
Une version en trois étapes du classique des pièces, le matrix. Quatre demi dollars se retrouvent sous une seule et même carte. L'effet est ensuite reproduit mais les pièces retrouvent cette fois-ci leur place initiale. Enfin, avec une simple carte, les pièces s'assemblent puis retrouvent leur position d'origine.

Coins To Glass
Un tour parmi les favoris du public. Des pièces disparaissent de la main du magicien et apparaissent les unes après les autres dans un verre.

Crayon Thru .25
Un crayon passe visiblement au travers d'une pièce. Vous pouvez dès à présent proposer ce tour à tous, petits et grands.

Cups and Balls
Le classique de Dan : la routine du Fleshman Flash – avec un final époustouflant que vous regarderez encore et encore.

BONUS! The Chinese Linking Rings (les anneaux chinois) - Version Close-Up
voici la vidéo des mini anneaux chinois que Dan a proposé il y a quelques années. Regardez Dan évoluer devant un restaurant au complet pour un public bel et bien réel, admirant sa version des anneaux chinois. Vous trouverez ensuite l'explication de la routine des anneaux.




Langue : Anglais, Durée : 103 min.


Retour au catalogue
Cet article n'est
plus vendu sur Magicaplanet