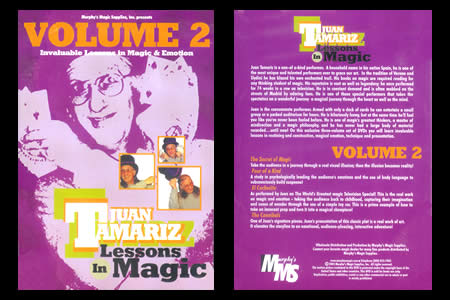 Description
Juan Tamariz est un magicien inimitable. De renommée mondiale, et natif d'Espagne, il est un des rares prestidigitateur de talent à transcender l'art de la magie.
Tout comme Vernon et Slydini il guide nos pas sur les sentiers enchantés de la magie.
La lecture de ses ouvrages est fortement recommandée à quiconque étudie la magie.
Son répertoire est aussi vaste que légendaire, sa renommée est établie, il se voit même abordé dans les rues de Madrid par des fans invétérés.
Il est ce magicien qui rend les journées magiques et emporte aussi bien le cœur que l'esprit.
La magie de Juan est à "consommer sans modération". Armé d'un simple jeu de cartes il peu divertir à loisir son public pendant des heures.
Il est amusant, drôle et arrive à vous duper comme jamais personne ne le fait. Il est un des penseurs de la magie, un maître de la distraction et de la philosophie magique…
Il n'avait jamais divulgué ses secrets... Jusqu'à aujourd'hui
Cette série exclusive de trois DVD vous propose d'inestimables leçons de magie dans lesquelles vous apprendrez à construire vos routines, à créer une atmosphère magique et à acquérir la technique nécessaire.
Volume 2 :
The Secret of Magic
Faites voyager le public au travers d'une illusion d'optique. L'illusion devient alors réalité !


Four of a Kind
Une étude psychologique qui joue sur les émotions du public et le langage corporel, et construit un suspens subconscient!


El Cochecito
La routine telle que Juan l'a présentée à la télé ! Un vrai travail sur la magie et l'émotion qui renvoie le public à l'enfance, saisissant son imagination et ses interrogations au travers d'un simple jouet (une voiture). C'est l'exemple parfait du détournement d'un simple objet pour en faire une œuvre d'art.


The Cannibals
Une des pièces maîtresses de Juan. L'histoire de base est transcendée pour le plus grand plaisir du public, une aventure interactive.


Langue : Anglais.



Retour au catalogue
Cet article n'est
plus vendu sur Magicaplanet