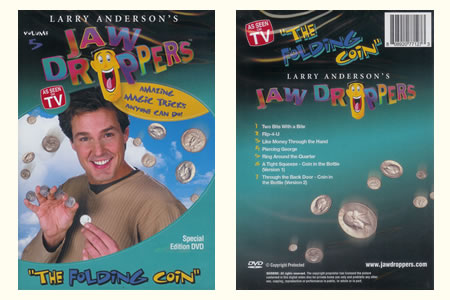 Description
Le DVD Jaw Droppers vous propose une démonstration de chaque tour réalisé par un expert du close-up , le magicien
Larry Anderson
et suivi des explications étape par étape dudit tour. Vous pouvez vous aussi surprendre vos amis avec un peu d'entraînement. Apprenez un seul de ces tours et faites impression, vous découvrirez la vraie valeur de ce DVD !
« Avec ces tours vous pourrez faire tant impression que les gens se souviendront de vous pendant des années. Il n'y a pas meilleur façon pour briser la glace que la magie : collègues de travail, personnes spéciales à vos yeux… tous seront enchantés. »
Larry Anderson.
Larry a conçu ce DVD sur un des accessoires de magie les plus ingénieux jamais inventés – La pièce cassée. Utilisée par les magiciens professionnels dans des tours époustouflants, comme manger un morceau d'un quart de dollar ou encore faire voyager une pièce empruntée d'un verre à une bouteille.
Sommaire :
Two-Bits With a Bite

Flip-4-U

Like Money Through the Hand

Piercing George

Ring Around the Quarter

A Tight Squeeze - Coin in the Bottle (Version 1)

Through the Back Door - Coin in the Bottle (Version 2)

Avec ce DVD, une pièce croquée est offerte.


Langue: Anglais, Durée : 40min.

Retour au catalogue
Cet article n'est
plus vendu sur Magicaplanet