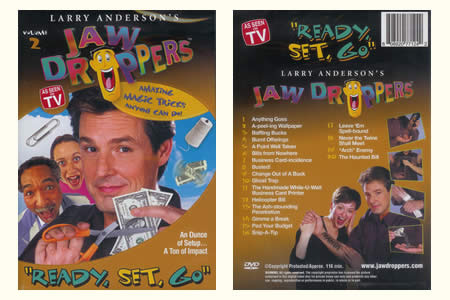 Description
Le DVD Jaw Droppers Vol 2 vous propose une démonstration de chaque tour réalisé par un expert du close-up , le magicien
Larry Anderson
et suivi des explications étape par étape dudit tour. Vous pouvez vous aussi surprendre vos amis avec un peu d'entraînement. Apprenez un seul de ces tours et faites impression, vous découvrirez la vraie valeur de ce DVD !
« Avec ces tours vous pourrez faire tant impression que les gens se souviendront de vous pendant des années. Il n'y a pas meilleur façon pour briser la glace que la magie : collègues de travail, personnes spéciales à vos yeux… tous seront enchantés. »
Larry Anderson.
Sommaire :
Anything Goes

A-peel-ing Wallpaper

Baffling Bucks

Burnt Offerings

A Point Well Taken

Bills From Nowhere

Business Card-incidence

Busted!

Change Out of a Buck

Ghost Trap

The Hand-Made While-U-Wait Business Card Printer

Helicopter Bill

The Ash-stounding Penetration

Gimme a Break

Pad Your Budget

Snip-A-Tip

Leave 'Em Spell-Bound

Never the Twine Shall Meet

"Arch" Enemy

The Haunted Bill


Langue: Anglais, Durée : 116 min.

Retour au catalogue
Cet article n'est
plus vendu sur Magicaplanet