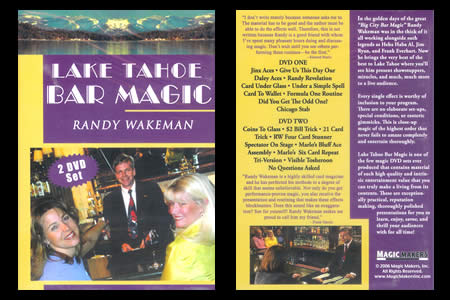 Description
Randy Wakeman
est une des légendes de la magie. Ces Dvd vous proposent le meilleur du meilleur présenté au Lake Tahoe où vous le verrez réaliser des tours insensés, des miracles et bien plus encore… le tout en direct.
Chaque effet mérite d'être introduit dans votre spectacle. Aucune préparation particulière, aucun contexte précis, ni gimmick à utiliser. Voici de la magie de close-up d'un niveau hors pair qui ne cessera de surprendre et de divertir.
Lake Tahoe Bar Magic est un des rares DVD, d'une telle qualité, au contenu si étonnant et varié au point que vous pouvez créer un seul et même spectacle à partir de son contenu. Ces DVD d'une pratique étonnante, créateurs de succès, aux présentations étudiées, vous permettront d'apprendre, de divertir, d'étonner et même d'effrayer votre public!
Au sommaire :
DVD 1:
+ Jinx Aces
+ Give Us This Day Our Daley Aces
+ Randy Revelation
+ Card Under Glass
+ Under A Simple Spell
+ Card To Wallet
+ Formula One Routine
+ Did You Get The Odd One?
+ Chicago Stab

DVD 2:
+ Coins To Glass
+ $2 Bill Trick
+ 21 Card Trick
+ RW Four Card Stunner
+ Spectator On Stage
+ Marlo's Bluff Ace Assembly
+ Marlo's Six Card Repeat
+ Tri-Version
+ Visible Tosheroon
+ No Questions Asked


Langue: Anglais.

Retour au catalogue
Cet article n'est
plus vendu sur Magicaplanet