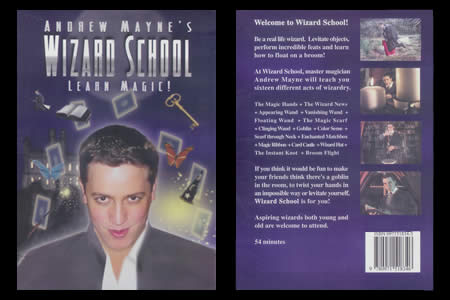 Description
Devenez un véritable sorcier !
Faites léviter des objets, réalisez des exploits incroyables, apprenez même à voler sur un balais !
Si vous voulez faire croire à vos amis qu'un gobelin se cache dans votre chambre, si vous souhaitez contorsionner vos mains de façon impossible ou tout simplement si vous désirez léviter, alors l'école de sorcier d'Andrew Mayne est pour vous !
Dans son école, Andrew Mayne vous apprendra 16 tours de sorcellerie :
The Magic Hands

The Wizard News

Appearing Wand

Vanishing Wand

Floating Wand

The Magic Scarf

Clinging Wand

Goblin

Color Sense

The Magic Ribbon

The Enchanted Matchbox

Scarf through Neck

The Card Castle

The Wizard's Hat

The Instant Knot

Broom Flight


Langue : Anglais, Durée : 54 min.

Retour au catalogue
Cet article n'est
plus vendu sur Magicaplanet