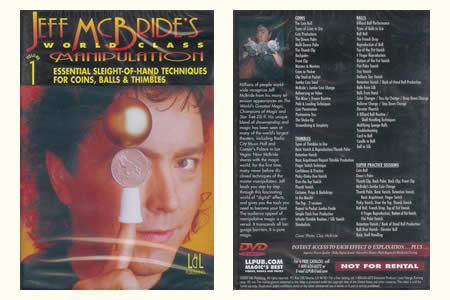 Description
Jeff McBride
est un des plus grand manipulateurs au monde. Ses connaissances approfondies dans le domaine de la manipulation des cartes demeurent inégalées. L'enseignement de McBride vous aidera à transcender vos tours et à créer une nouvelle forme de magie.
McBride vous propose de découvrir pour la toute première fois, les techniques les plus secrètes des manipulateurs de renom. Jeff vous guide pas à pas dans l'univers des effets « digitaux » et vous donnes toutes les astuces nécessaires pour devenir le meilleur. Toute une carrière de manipulation et de magie est condensée dans cette série de trois volumes -
World Class Manipulation
à laquelle appartient
Essential Sleight of Hand Techniques for Coins, Balls, and Thimbles, volume 1.
.
Au sommaire :
Coins (pièces) :
Quelles sont les pièces à utiliser, empalmages, productions, disparitions, production de grosses pièces…
- Intention & Dedication
- The Coin Roll
- Types of Coins to Use
- Coin Productions
- The Downs Palm
- Multi-Downs Palm
- The Thumb Clip
- Backpalm
- Front Clip
- Masters & Mentors
- Coins to Pocket
- Jumbo Coin Production
- McBride's Jumbo Coin Change
- Rehearsing on Video
- The Miser's Dream Routine
- Pails & Loading Techniques
- Coin Penetration
- Pantomime Toss
- Basic Sleights
- Advanced Sleights
- The Shake-Up
- Streamlining & Simplicity


Thimbles (dés) :
Quels sont les dés à utiliser, empalmages, productions, disparitions, production de 4 dés, productions de gros dés, charge au corps…
- Finger & Thimble Magic
- Types of Thimbles to Use
- Basic Vanish & Reproduction
- Thumb Palm
- Downs Palm
- Retention Vanish
- Basic Acquitment
- Repeat Thimble Production
- Finger Switch Technique
- Confidence & Practice
- Pinky-Dinky-Doo Vanish
- Over-the-Top Vanish
- Thumb Vanish
- Costume, Props & Backdrops
- In The Mouth!
- The Pop-2 Versions
- Repeat to Pocket
- Jumbo Finale
- Simple Flash Four Production
- Infinite Thimble Routine
- Silk Vanish
- Thimbalistic (Bobby Baxter)


Balls (balles) :
Quelles sont les balles à utiliser, empalmages, productions, disparitions, balles et foulards, changements de couleurs, coquilles, multiplications de balles…
- Billiard Ball Performance
- Types of Balls to Use
- Basic Ball Techniques
- Ball Roll
- The French Drop
- Vanish & Reproduction
- Top-of-the-Fist Vanish & Finger Vanish
- Bottom-of-the-Fist Vanish
- Flat-Palm Vanish
- Toss Vanish
- DeBiere Toss Vanish
- Retention Vanish
- Back-of-Hand Roll
- Production
- Balls from Silk
- Balls from Hand
- Color Changes
- Toss-Up Change
- Drop-Down Change
- Rollover Change
- Slap-Down Change
- Elevator Flourish
- A Billiard Ball Routine
- Shell Handling Techniques
- Multiplying Sponge Balls
- Troubleshooting
- Card to Ball


Super practice session :
- Coin roll
- Down's palm,
- Thumb clip, back palm, back clip, front clip
- McBride's Jumbo coin change
- Thumb palm, basic vanish, retention vanish, basic acquitment, finger switch
- Pinky vanish, over the top, thumb vanish
- Ball roll, French drop, top of fist vanish, V finger reproduction, bottom of fist vanish, flat palm vanish
- Retention vanish, back of hand roll production
- Roll over vanish, elevator ball
- Basic shell handling.


Durée :100 min Langue : Anglais Format PAL




Retour au catalogue
Cet article n'est
plus vendu sur Magicaplanet