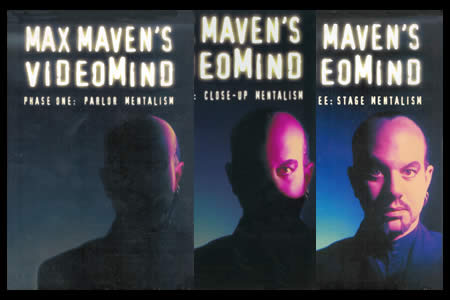 Description
Max Maven
peut lire en vous comme dans un livre ouvert. Cet incroyable maître du mentalisme nous a donné le privilège de comprendre et d'apprendre tout son art avec
toute son expérience en seulement ces 3 DVDs.
Récapitulatif des 3 DVDs:
Dvd 'Max Maven's Videomind phase 1'
Observez la performance de
Max MAVEN
. Vous comprendrez pourquoi
Entertainment Tonight
l'a qualifié de « maître du mentalisme », et le
New York Daily News
a proclamé « Ce type peut lire en vous comme dans un livre ouvert ». Puis, Max est rejoint par
Eugène BURGER
pour une discussion au cours de laquelle les secrets sont révélés en détail.
AU SOMMAIRE :
The Mockingbird
Un extrait de la fable "Les Oiseaux de Proie". En son centre, une démonstration inexplicable de télépathie avec des cartes à jouer.


Autome
Un livre extraordinaire utilisant des dispositifs non truqués dans les conditions les plus justes. C'est une routine remarquable qui introduit aussi des principes que vous pourrez utiliser à d'autres reprises.


Divine Write
(Previously unrevealed) Le magicien tente une expérimentation imposante de clairvoyance, travaillant en simultané avec un spectateur. Le bilan est positif pour les deux !


Zenvelopes
Un test d'intuition avec quelques participants et un nombre de cartes avec des symboles ESP cachés dans des enveloppes. Elles sont mélangées par les spectateurs, qui les distribuent par paires. Lorsqu'elles sont ouvertes, les symboles correspondent parfaitement.


Kurotsuke
(Previously unrevealed) Un ancien jeu provenant de la cour impériale du Japon est transformé en une délicieuse routine de mentalisme.


The mind's eye deck
Un paquet de 40 cartes avec des dessins est utilisé. Chacune est différente, et le jeu est mélangé. Alors que le magicien a le dos tourné, un spectator retire une carte. Sans se retourner, le mentaliste commence à décrire le dessin, puis le dessine sur un morceau de papier.



Dvd 'Max Maven's Videomind phase 2'

Regardez d'abord la performance de Max Maven, et comprenez pourquoi le Chicago Tribune le qualifie de "merveilleusement ésotérique".
Ensuite Max est rejoint par Eugene Burger pour une discussion privée où sont révélés les secrets dont certains jamais dévoilés.


AU SOMMAIRE :


Shape up (previously unrevealed) : Une carte est retirée d'un jeu ESP. Puis une personne est invitée à distribuer le reste des cartes du paquet, les retournant unes par unes, et s'arretant à n'importe quel moment. La carte où le spectateur s'arrête à la même symbole que la carte précédemment retirée.


Changeling : Un tour trés simple à réaliser avec une poignée de pièces. Le mentaliste devine combien de pièces ont été choisies par le spectateur.


Isolation : Le participant choisi un magazine parmi plusieurs, l'ouvre à une page quelconque, et choisi un mot. Grâce à ses pouvoirs télépathiques, le mentaliste extrait le mot de l'esprit du spectateur.


Key to the future : Une sympathique variation sur le classique "Seven Keys to Baldpate", utilisant un cadena et plusieurs cléfs, dont une seule peut ouvrir le cadenas. Cette fois ce sont les facultés mentales du spectateur qui sont téstées. Va t'il trouver la bonne cléf, et le mentalist la connait-il à l'avance ?


Symbalance (previously unrevealed) :Un paquet ESP est utilisé et deux participant sont conviés à piocher des cartes. Le mentaliste devine la carte du premier par la pensée et la seconde par simple contact avec la carte.


Positive Negative : Une lesson dans l'art du management du public.


The Hawk : Encore une routine de cartes impossible basée sur la série "Birds of Prey". Deux spectateur choisissent chacuns une carte et la remettent dans le paquet pendant que le spectateur a le dos tourné. Ils mélangent le paquet. Aucun problème, le mentaliste les retrouve.



Dvd 'Max Maven's Videomind phase 3'

Regardez en premier lieu la performance de Max Maven et découvrez pourquoi le magazine People a fait l'éloge de « ce nouveau genre de théâtre participatif » et pourquoi la revue Los Angeles Times admire ses « capacités d'improvisations… renforcées par un magnétisme animal charismatique ». Max est ensuite rejoint par Eugene Bruger pour une discussion révélant les secrets dans leurs moindres détails.


AU SOMMAIRE :


Goal Mine Inédit
Voici une routine idéale pour ouvrir vos spectacles : une routine de persuasion mentale permettant de mieux définir le spectateur, d'impliquer plusieurs membres du public et de produire un climax qui vous apportera rires et applaudissements.


Tossed-Out Tech Inédit
Une des techniques les plus importantes du mentalisme a aussi été une des techniques les moins comprises (jusqu'à maintenant). Cette partie renvoie à un des effets piliers du répertoire de Max Maven. Ce n'est pas une simple description, il s'agit ici d'une analyse en profondeur et de connaissances développées pendant plus de vingt ans lors de nombreuses et diverses performances. Les informations fournies constituent une véritable cours « supérieur » dans le domaine du mentalisme.


Khan Artist Inédit
Le magicien prédit comment le public va ordonner un ensemble de symboles. Bien que l'effet semble peu compliqué, il n'en a pas moins étonné certaines figures de la magie pour autant.

Contimental
Pourrait-il y avoir de façon plus directe pour lire dans les pensées des spectateurs ? Un spectateur pense à un endroit dans le monde, le magicien le révèle. Aucun trucage, aucun papier, vous pouvez même réaliser ce tour par téléphone.


Psign
Une prédiction rapide et au point. Le magicien montre un grand tableau retourné. Un spectateur choisi un signe parmi huit qui s'avère être celui dessiné sur le tableau. Le spectateur peut même rester assis, laissant le magicien seul.


Langue : Anglais - DVD Multizone.

Retour au catalogue
Cet article n'est
plus vendu sur Magicaplanet