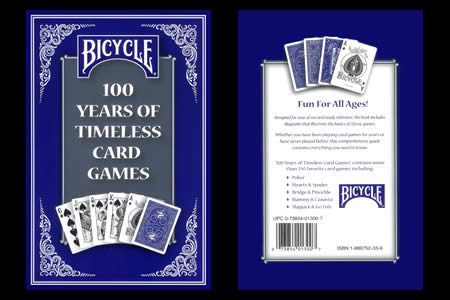 Description
Vous trouvez que les jeux de cartes se ressemblent trop ? Alors ce livre a été écrit pour vous.
Entrez dans l'univers des jeux de cartes et découvrez de nouveaux jeux pour agrémenter vos soirées entre amis.
Les jeux que vous propose ce livre raviront petits et grands, amateurs et professionnels. Sa constitution vous permet de choisir les jeux adaptés à vos soirées selon le nombre de joueurs, le niveau de technicité… Un ouvrage pour le simple plaisir de jouer.
Parcourez les pages et découvrez le
Panguingue
, le
Gin Rummy
, le
Skat
…
AU SOMMAIRE :
A brief history of playing cards (petite histoire des jeux de cartes).

Choosing card games to play (choisir un jeu de cartes).

General rules applying to all card games (règles générales applicables à tous les jeux).

Chapter 1 – Bridge, Whist game.

Chapter 2 – Poker and its many versions.

Chapter 3 – Casino games.

Chapter 4 – Rummy games.

Chapter 5 – Hearts and other trick-taking games.

Chapter 6 – Pinochle and related games.

Chapter 7 – Cribbage and counting games.

Chapter 8 – The stops family

Chapter 9 – Children's card games.

Chapter 10 – Solitaire games.

Glossary of card game terms.

Index.


Avantages

De nombreux jeux de cartes.

Pour petits et grands.

Pour amateurs et professionnels.

Jeux adaptés à de nombreuses situations.


Langue : Anglais. 333 pages illustrées Format : 13,3 x 20,2 cm.




Retour au catalogue
Cet article n'est
plus vendu sur Magicaplanet