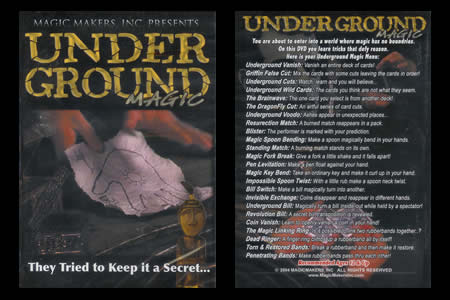 Description
Vous êtes sur le point d'entrer dans un univers où la magie n'a aucune limite. Les tours que propose ce Dvd défient les lois de l'entendement.
Regardez, apprenez et surprenez !
AU SOMMAIRE :
Undergroung Vanish.
Faites disparaître un jeu de cartes en entier.

Griffin false cut.
Mélangez les cartes par des coupes : le jeu reste dans l'ordre !

Underground cuts.
Regardez, apprenez et vous aurez foi !

Underground wild cards.
Les cartes que vous croyez ne sont pas ce qu'elles semblent.

The brainwave.
La carte choisie provient en réalité d'un autre jeu.

The dragonfly cut.
Une astucieuse série de coupes.

Underground vodoo.
Des cendres apparaissent dans des lieux insoupçonnés.

Resurection match.
Une allumette précédemment brûlée renaît dans une boîte.

Blister.
Le magicien est imprégné de la prédiction.

Magic spoon bending.
Une cuillère se plie comme par magie dans votre main.

Standing match.
Une allumette enflammée tient toute seule.

Magic fork break.
Donnez un petit coup à une fourchette qui se casse.

Pen levitation.
Faites léviter un stylo au-dessus de votre main.

Magis key bend.
Faites tordre une clé ordinaire dans votre main.

Impossible spoon twist.
D'un simple frottement faites plier le cou d'une cuillère.

Bill switch.
Transformez un billet en un autre.

Invisible exhange.
Des pièces disparaissent pour réapparaître dans l'autre main.

Underground bill.
Faites retourner un billet alors qu'il se trouve dans la main d'un spectateur.

Revolution bill.
Transposition d'un billet.

Coin vanish.
Apprenez à faire disparaître une pièce dans la paume de votre main.

The magic linking ring.
Comment lier deux élastiques entre eux ?

Dead ringer.
Une bague remonte seule un élastique.

Torn and restored bands.
Cassez un élastique et réparez-le aussitôt.

Penetrating bands.
Faites s'enclaver deux élastiques.


Langue : Anglais.

Retour au catalogue
Cet article n'est
plus vendu sur Magicaplanet