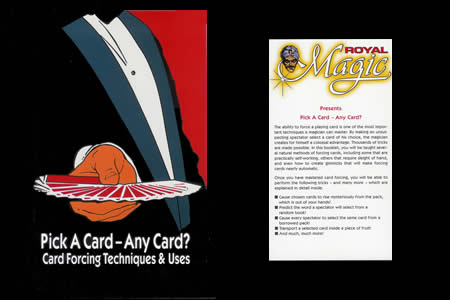 Description
Le forçage des cartes vous ouvre les portes vers la réalisation de nouveaux tours aussi étonnants les uns que les autres.
Avec ce livre vous apprendrez à forcer une carte de différentes manières mais aussi à créer des gimmicks qui vous permettront de forcer une carte
Au sommaire :
Methods of forcing playing cards (méthodes de forçage).
- The classic force, Criss-cross force, 10-20 force, Hindu force, Riffle force, Dribble force, Bill Simon's two-card force, Slip force, Equivoque, Novel three card force, Undercover (handkerchief) force, Ala Hofzinser, Short card, Short card variation.


Tricks (tours).
- Card in orange, Forceful book test, Almost impromptu brainwave, Rising cards, Find the five, Simplified card stab, Hank's card trick, Miraculous ashes, Business card prediction, The ghost card, One th(K)ing in mind, Two minds – a single thought, The spelling bee, Lie detector, Le carte générale

Les tours proposés permettent entre autre chose de :

Faire que la carte choisie se soulève mystérieusement du jeu hors de votre portée.

Prédire un mot choisi au hasard par un spectateur.

Faire que les spectateurs tirent tous la même carte.

Faire voyager la carte dans un fruit.


31 pages illustrées.En anglais.



Retour au catalogue
Cet article n'est
plus vendu sur Magicaplanet