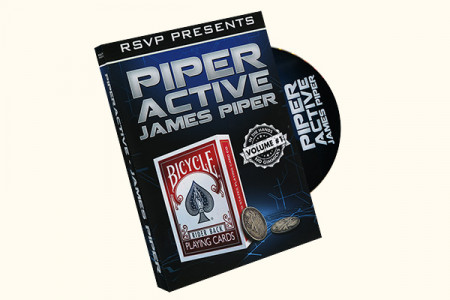 Description
Bienvenue dans "Piperactive Volume 1", le tout nouveau DVD de rsvpmagic mettant en vedette le superbe James Piper. Ce DVD présente une magie incroyablement puissante utilisant juste un jeu de cartes et quelques pièces de monnaie normales, de l'acte de travail de James Piper, une nouvelle étoile montante dans le monde de la magie. Tous les tours peuvent être faits dans les mains et sont parfaits pour tous les magiciens de tous niveaux.
Contenu :
I thought you said eight..........
Après une petite "confusion", le magicien sauve la journée en trouvant deux sélections, puis il les époustoufle avec une incroyable transposition !
No good for the OCD!..........
Une démonstration de dextérité, avec une fin magique. La magie des cartes à son meilleur !
Under my armpit!...........
Les quatre as révèlent la suite d'une carte choisie qui est ensuite produite à partir de l'aisselle des magiciens.....ou est-ce ?

I forgot to wind the deck up!
Une rapide raison logique pour l'une des choses les plus fortes que l'on puisse faire avec un jeu de cartes.
This is how I practice...........
Le magicien propose de faire une démonstration de sa façon de pratiquer, seulement pour se tromper, se sauver et épater les spectateurs en même temps !
How cheaters cheat..........
Le magicien propose de révéler certains des plus grands secrets gardés des jeux d'argent truqués. Un spectacle de magie de proximité intéressant, divertissant et étonnant !
Sloppy ace of spades!..........
Un classique avec un kicker supplémentaire qui se produit dans leurs mains !
Retour au catalogue