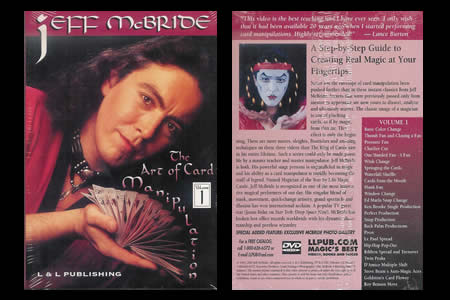 Descripción
Jeff McBride
fait partie des plus grands manipulateurs au monde. Il fut couronné 'Magicien de l'année' par le Magic Castle d'Hollywood.
Depuis plus de 20 ans, Jeff sillonne le monde et n'a pas son pareil en matière de culture magique.
Devenez un PRO dans les manipulations de cartes sur scène !!! Jeff McBride vous dévoile les plus grands secrets sur cet art.
'THE ART OF CARD MANIPULATION' VOL 1
Premier volume d'une serie de 3 DVD pour tout connaître sur la manipulation des cartes sur scène.
AU SOMMAIRE :
Basic Color Change

Thumb Fan and Closing a Fan

Pressure Fan

Charlier Cut

One Handed Fan – S Fan

Wink Change

Springing the Cards

Waterfull Shuffle

Cards from the Mouth

Blank Fan

Window Change

Ed Marlo Snap Change

Ken Brooke Single Production

Perfect Production

Snap Production

Back Palm Productions

Pivot

Le Paul Spread

Hip-Hop Pop-Out

Ribbon Spread and Turnover

Twin Peaks

D'Amico Multiple Shift

Steve Beam's Auto-Magic Aces

Goldston's Card Flower

Roy Benson Move.
Une série incontournable !!!
DVD en anglais.
Volver al catálogo