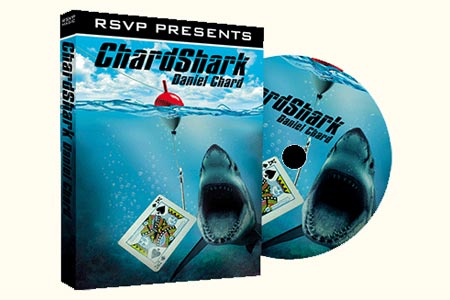 Descripción
Bienvenue dans « Cardshark » de Daniel Chard, un nouveau genre en cartomagie dont vous entendrez beaucoup parler dans le futur.
Ce DVD contient 10 routines étonnantes qui sont percutantes, directes et certaines d'enchanter votre public. Jugez simplement des réactions dans le trailer, et en plus elles ne sont pas aussi difficiles à faire que vous le pensez.
Decompression :
les quatre as se compressent en deux deux, puis en quatre avant de disparaître totalement. Puis le temps revient en arrière pour un effet killer !
Kickback Bonanza :
quatre dames emprisonnent une carte choisie dans des conditions impossibles, puis survient un double climax qui laissera les mâchoires de votre auditoire sur le sol. Voici la routine de cartes absolue selon Dan.
Fiddle with Biddle :
le tour du Biddle passe au niveau supérieur, avec de belles subtilités pour transformer cette routine en petit miracle !
A Night with Hofsinzer :
l'effet classique qui exploite un des grands mouvements d'Ed Marlo, direct et très fort.
Sequential Sandwich :
les jokers sont utilisés pour retrouver, une par une, les cartes de l'as au quatre d'une même famille. Le finale a pris au dépourvu certains des plus grands noms de la magie.
Four My Mates :
un effet de sandwich où la sélection remonte visuellement à travers le paquet et retrouve ses trois semblables sur le chemin !
Cloaked Inversion :
une routine d'inversion en 3 phases qui exploite » the cloaked reversal », expliqué pour la première fois en DVD, et une inversion totale de jeu avec une seule main !
World's Fastest Threesome :
3 cartes choisies sont retrouvées en moins de 3 secondes, à 3 endroits différents !
Mouthy Transpo :
une transposition en deux phases qui est directe et percutante, avec une conclusion qui ne manquera pas de vous surprendre.
Taking the Plunge :
grâce au plunger principle, deux assistants spéciaux retrouvent une sélection et intervertissent deux cartes.
Toolbox Section :
une partie boîte à outils qui se penche plus en profondeur sur quelques-uns des mouvements utilisés.
Effets très visuels
Se font avec un jeu de carte classique
De la magie élégante et perturbante

Volver al catálogo
Este artículo ya no se vende en Magicaplanet