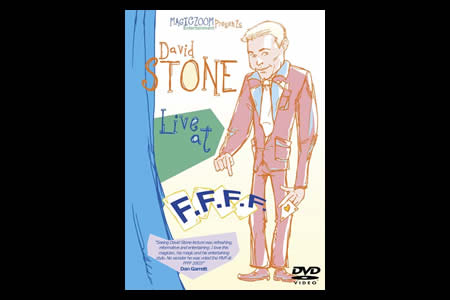 Descripción
¡Descubre el DVD en directo de la conferencia de David STONE! Una verdadera parte de antología con numerosas ideas de presentación, subtilidades a cerca de la cercanía profesional en los restaurantes, numerosas rutinas, numerosos extras ¡y sobre todo un David Stone completamente loco y muy divertido!

Un programa en directo sin cortes como si estuviera en los FFFF… y subtitulado en Francés.

Organizada cada año por el legendario Obie O' Brien, la F.F.F.F ( Fechter's Finger Flicking Frolic ) es un congreso que reune durante cuatro días 250 mago que se consideran como los ¡mejores "close-up men" (magos de cerca) del mundo!

¡Las condiciones de participación muy peculiares ( tiene que estar invitado para participar en este congresos y todos los participantes tienen que presentar por lo menos un número), hacen de este congreso uno de los más privado del mundo!

Aquí tiene la conferencia en directo y sin cortes que permitió a David STONE ser elegido la "Most Valuable Person" durante las FFFF 2003. Aprovecha de este DVD para asistir a una de las conferencias de uno de los congresos de magia los mas famosos.

ÍNDICE :

Splash Bottle : Todos los detalles y subtilidades que facilitan esta magnífica aparición de botella en magia de cerca o en escena.

The Mulberry Production : una aparición de 4 dolares muy simple, muy engañosa... ¡y sín truco !

Double flip : un doble levantamiento/ placer original para los enamorados de cartas.

Snap Stone change : una carta al final de los dedos cambia de manera visible. Es otra adaptacion visual del Snap change de Ed Marlo

Cocoon : El mago pone un dolar en el tapete, coge la moneda para jugar con ésta y la pone de nuevo en el tapete: ¡hay 4 dolares en el tapete!

Flash card : Una carta sale rápidamente a varios metros del juego durante un riffle shuffle

The Opening trick theory : Stone habla de sus reflexiones en la manera de acercarse a una mesa durante el trabajo en Table hopping : Apasionante y sobre todo muy divertido: ¡un verdadero momento de antología!

Volver al catálogo
Este artículo ya no se vende en Magicaplanet

FINAL AGOTADO