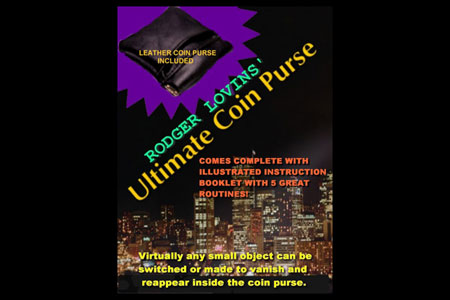 Descripción
Adorarás este
monedero especial
que, sin embargo, tiene un aspecto absolutamente corriente pero que ¡¡¡te permitirá
obrar milagros
!!!
Este Ultimate Coin Purse (El monedero definitivo) es un monedero sutilmente trucado que incluye dos muscades: una de ellas imantada. También incluye las instrucciones de
5 rutinas
muy originales y concebidas por
Rodger Lovins
. Así que, ya puedes incluir este gimmick en tu espectáculo.
Las rutinas explicadas son las siguientes :
-
Chop Purse :
Un viaje de bolas desde un monedero hasta la mano del mago, y de su mano de nuevo al monedero. Muy bonito y muy limpio.
-
100$ Quarter Challenge :
Una apuesta con el espectador de un conjunto de monedas en la que el mago ganará siempre. ¡Una apuesta excelente!
-
Un bolted nut :
Un tornillo que un espectador atornilla con fuerza a una tuerca. El mago mete este conjunto en el monedero, lo agita rápidamente y saca las dos piezas desatornilladas. ¡Un efecto increíble e inexplicable!
-
Scotch and can of soda :
El viaje de un medio dólar y de un penique inglés desde debajo de una lata de refresco hasta el interior del monedero. ¡Un truco interactivo en el que el espectador no para de intervenir!
-
Halves or quarters :
Un cambio muy visual de 5 monedas a la vez. ¡Alucinante!
Monedero + 2 muscades rojas, una de ellas imantada (Ø 2 cm)
5 rutinas originales explicadas
Instrucciones en inglés y francés
Volver al catálogo