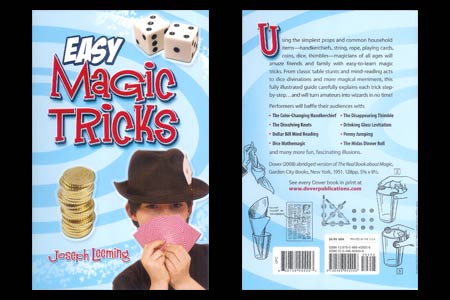 Descripción
En utilisant des
objets simples
de la maison comme des mouchoirs, des cartes, des pièces, de la corde, des dés, des dés à coudre les magiciens de tous les âges amuseront leurs amis et leur famille avec des
tours très simples
à apprendre.
Des tours classiques au mentalisme en passant par la divination avec des dés, ce guide illustré explique étape par étape les routines…et transformera les amateurs en véritables magiciens en très peu de temps !
AU SOMMAIRE :
Magic with rings
Impromptu Coin Tricks
Coin Tricks Requiring Simple Apparatus
Mathematical magic
Magic with handkerchief
More magic with handkerchief
Magic with string
Magic with ropes
Mind-reading magic
Magic with dice
Thimble magic
Dinner-table magic
Stunts to fool your friends
Langue :
anglais –
122 pages illustrées
.

Volver al catálogo
Este artículo ya no se vende en Magicaplanet