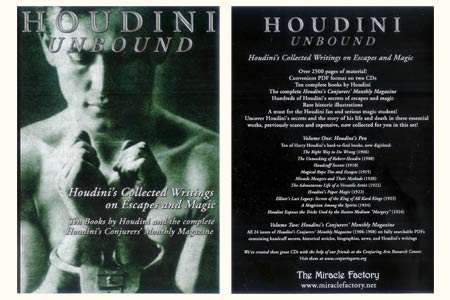 Descripción
Découvrez ce
merveilleux coffret de 2 DVD sur Harry Houdini
.
Houdini a réalisé de
nombreux écrits sur l'évasion et la magie
que vous retrouverez dans ce coffret.
Plus de
2500 pages de matériel ! Des vieilles illustrations…
Les deux CD sont au format PDF.
Voici
le must
pour tous les fans de Houdini et les étudiants en magie !
Découvrez
à travers ces DVD les
secrets de Houdini
, l'histoire de sa vie et de sa mort, auparavant rares et chers et maintenant regroupé pour vous dans ce coffret.
AU SOMMAIRE : DVD 1 : Houdini's Pen
Ten of Harry Houdini's hard-to-find books, now digitized :
The Right Way to Do Wrong (1906)
The Unmasking ofRobert-Houdin (1908)
Handcuffs Secrets (1910)
Magical Rope Ties and Escapes (1915)
Miracle Mongers and Their Methods (1920)
The Adventurous Life of a Versatile Artist (1922)
Elliott's Last Legacy : Secrets of the King of All Kard Kings (1923)
A Magician Among the Spirits (1924)
Houdini Exposes the tricks Used by the boston Medium "Margery" (1924)
DVD 2 : Houdini's Conjurers' Monthly Magazine
Houdini's Conjurers' Monthly Magazine (1906-1908) contenant des articles historiques, des biographies, des nouvelles et des écrits de Houdini...
Langue :
anglais.

Volver al catálogo
Este artículo ya no se vende en Magicaplanet