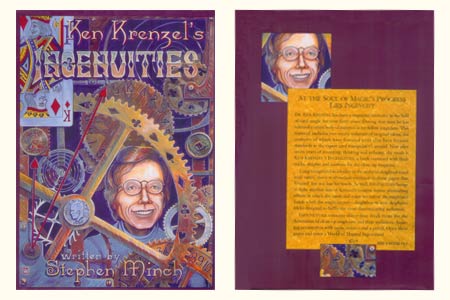 Descripción
Ken Krenzel
, célèbre pour être un expert en manipulations de cartes, vous propose un panel plus que complet de joyaux magiques surprenants parmi lesquels de nombreux tours de magie visuelle et des routines déroutantes avec des
cartes, pièces et crayon !
Au total, 34 tours, routines et manipulations innovants telles que :
Ingenuity n° 1:
A la fin d'une routine de carte ambitieuse (Ambitious card) the magicien remet le jeu dans son étui puis introduit la sélection signée au centre du jeu (déjà dans l'étui).Il fait alors une passe magique et demande à un spectateur de retirer la carte qui se trouve sur le dessus du jeu.
Il s'agit de la carte signée qui est mystérieusement remontée sur le dessus du jeu !
Le jeu n'est pas truqué.
Ingenuity n° 2:
Le magicien présente deux pièces, la première est en cuivre, la seconde en argent.Une des pièces est mise dans la poche alors que l'autre reste dans la main. Le magicien fait alors
échanger les deux pièces de place !
Les pièces sont tout à fait ordinaires.
Au sommaire :
INTRODUCTION
PRIMORDIA RERUM
OUT OF HAND
- Box top- Simulacrum mirabundum- Remote chance- Open prediction: a new angle- Halfway to hell- Shoe-in- The other shoe
THINGS CHANGE
- Around the world in several ways- Change at a rapid clip- Slip-lap change- Sequence mechanique- It's a wrap
ESCAPING CADVILLE
- Pocket passeport- Flipperoon- Obstacle course- Flippant alchemy- Poor miser- The million penny mystery
NEW TOOLS
- Peak Decks- a natural false cut- Top-cover dribble pass- Mr. Fingers goes to the bottom- The eclipse production- Opi-stack
TALL TALES AND SHORT CONS
- The lost aces of Louie the loser- Cloning queens- The last heist- Gravity travelers- Under wrap- Poles apart- Sand-witches- Sluggard's monte- Strip the leader- Fired up
Langue
: Anglais,
Couverture rigide
avec
224 pages
de magie exquise, agrémentée de
213 illustrations
.

Volver al catálogo
Este artículo ya no se vende en Magicaplanet