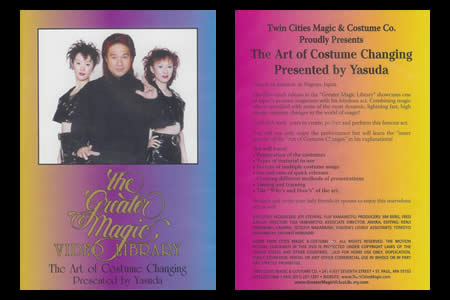 Descripción
Yasuda tardó varios años en desarrollar su famoso espectáculo. Admira los asombrosos cambios de vestuario, del maestro de expertos en el tema.
Admira, pero también aprende los secretos de este extraordinario arte, especial en magia.
Contenidos:
Preparation of the costumes (Preparación de los trajes).
Types of material to use (Tipos de material a utilizar).
Secrets of multiple costume usage (Secretos del uso de múltiples transformaciones).
Ins and outs of quick releases (Detalles de las transformaciones rápidas).
Creating different method of presentations (Creando diferentes métodos de presentaciones).
Timing and training (Cadencia y ensayo).
The "why's and how's" of the art (El por qué y el cómo de este arte).
Ventajas:
Todos los secretos de las transformaciones más impresionantes.
Consejos de preparación.
Muchos consejos de mago.
Un arte más que sorprendente.
Idioma: inglés

DVD multizona
Volver al catálogo