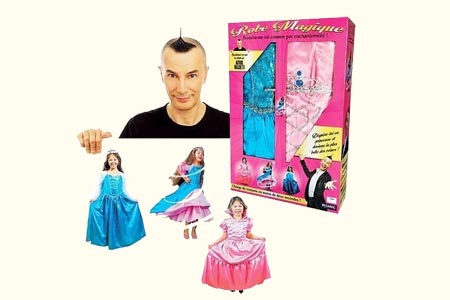 Description
Voici le 1er costume change magique au monde pour les enfants. Très belle qualité et esthétique des robes magnifique !
Votre fille porte une magnifique robe de princesse qui va se transformer comme par enchantement en une majestueuse robe de reine ! L'effet est impressionnant.
Intégrez votre fille à votre numéro ou tout simplement offrez-lui ce beau cadeau
original pour qu'elle puisse s'amuser avec ses copines.
Vous la trouverez disponible en 2 tailles de 6 à 9 ans.
Arturo Brachetti est considéré comme le maître mondial du transformisme et de la métamorphose. De Londres à Shanghaï en passant par Hollywood, il s'est produit sur les scènes du monde entier et a participé aux plus prestigieuses émissions et épisodes TV, comme The Disney Night of Magic ou bien encore le Drew Carey Show des Studios Warner. Il est également l'auteur de la comédie musicale Fregoli qui lui a fait gagner le prix Billet d'Or du spectacle ayant enregistré le plus d'entrées (280 000 billets en deux saisons).
Arturo Brachetti est également dans le Guinness Book des Records pour s'être changé plus de 250 000 fois sur scène au cours de sa carrière et pour s'être complètement transformé (chaussures comprises) en moins de 2 secondes ce qui en fait le recordman du monde de sa spécialité."
Profitez de son savoir faire et son secret pour offrir à votre fille le plus beau cadeau du monde !


Attention ! Présence de petits éléments détachables risquant d'être ingérés. Renseignements à conserver
Ne convient pas aux enfants de moins de 3 ans
Facile à faire
Coffret contenant la robe et les explications en Français
Taille : 6/7 ans

Return to the catalogue