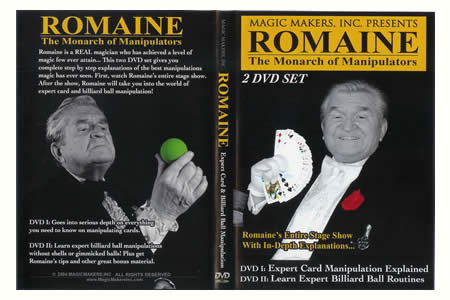 Description
ROMAINE's entire stage show
With in-depth explanations...
ROMAINE
is a REAL magician who has achieved a level of magic few ever attain… This two DVD set gives you complete step by step explanations of the best manipulations magic has ever seen. First, watch
ROMAINE
's entire stage show. After the show,
ROMAINE
will take you into the world of expert card and billiard ball manipulation.
CONTENTS :
DVD I : Goes into serious depth on everything you need to know on manipulating cards.


DVD II : Learn expert billiard ball manipulations without shells or gimmicked balls ! Plus get Romaine's tips and other great bonus material.


Language : english



Return to the catalogue
This item is no longer
sold on Magicaplanet