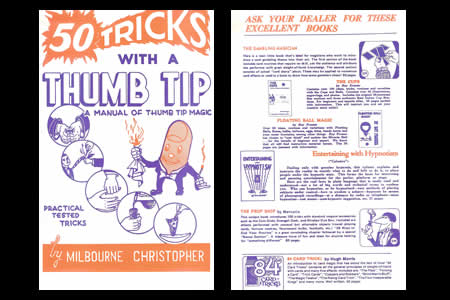 Description
The Thumb Tip is, as you probably know, the most popular secret device ever devised for conjuring purposes.
Thumb Tips are most frequently employed today in causing lighted cigarettes to vanish from the centers of handkerchiefs.
Unless specifically instructed otherwise, keep the Thumb Tip out of the audience's view as much as possible. A well painted Tip will be unnoticed if your thumb is pointed directly toward the spectators, but don't make a point of showing it unless it is necessary for the trick.
CONTENTS :
Introduction

Thumb Tip Magic

Burning a handkerchief

Making money

Ribbons from nowhere

Burning a napkin

Burning a tablecloth

Fire-Proof Thumb

Conjuring up candy

Living or dead

Cards controlled

Vanishing a dime

Indestructible match

Spirit rapping hand

Thumb tie with rubber bands

Chapman's taped thumbs

Dollar in banana

Bill in soft roll

Bill in hard crust roll

Reimer's ribbon cut

The severed string

Spirit knots

The mysterious cord

Cigarette to string

Silken dollars

Inflated money

Waterproof greenback

Waterproof variation

Burning a dollar

Spots that pass

Bill in nested envelope

Solid sugar

Silk switch

Quick change

Bank night

Annemann move

The vanishing card

The vanishing cigarette

Full size cigarette vanish

Flash tip

Silk production

Confetti to silk

Allen's tie trick

A Tannen Tip

Knots untied

The cut restored

Bill in purse

Amazing prediction

Thumb stretching

Bill in shot glass

Bill in egg

Sealed envelope reading

Recommended tricks and books


Language : english - Format : 13,5 x 21,5 cm - 24 pages.



Return to the catalogue
This item is no longer
sold on Magicaplanet