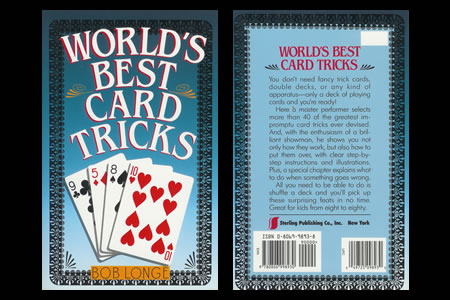 Description
You don't need fancy cars, double decks, or any kind of apparatus. Only a deck of playing cards and you're ready !
Here a master performer selects more than 40 of the greatest impromptu card tricks ever devised. And, with the enthusiasm of a brillant showman, he shows you not only how they work, but also how to put them over, with clear step-by-step instructions and illustrations. Plus, a special chapter explains what to do when something goes wrong.
All you need to be able to is shuffle a deck and you'll pick up these surprising feats in no time.
Great for kids from eight to eighty.
CONTENTS :
Introduction
Getting Started
Tips
NOTHING UP MY SLEEVE
The Peek
Forces
One-Cut Force
Face-Up Force
Double-Turnover Force


The Glide
THE GREAT CARD TRICKS
Prediction
Presto Prediction
Colorful Prediction
Three-Card Surprise


Transposition
Tick Tock Trick
Easy Aces
Tricky Transpo


Estimation
Easy Estimation
Digital Estimation
The Perfect Pile


Face-Up, Face-Down
Do-It-Yourself Discovery
Behind My Back
The Rare Reverse
My Favorite Card
Ups and Downs


Spelling
Impromptu Seller
Quick Speller
A Hot Spell


Gambling
Two-Handed Poker


Gambler's Bonus
Mind Control Poker
Flush of Success
Gambling Aces
Ace Surprise


Grab Bag
Countdown
The Four Aces Again
Get Out of This World
The Process of Elimination
The Double-Match Trick
Astounding Appearance
Murder
Quaint Coincidence


Mind Reading
A Word About Mind Reading
In the Palm of Your Hand
Crisscross
The Big Deal
The Three Piles
The Three Location


ODDS AND ENDS


Whoops !
Parting Thoughts
Write It Down
Simplify
Stay Within Yourself
Be Prepared


About the Author


Language : english - Illustrated - Format : 13,5 x 21 cm - 128 pages.



Return to the catalogue
This item is no longer
sold on Magicaplanet