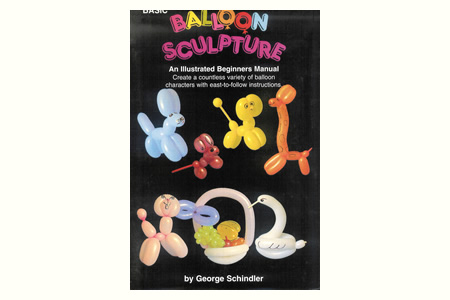 Description
An Illustrated Beginners Manual
Create a countless variety of balloon characters with a easy-to-follow instructions
Here is a 96 page illustrated book of easy-to-make Ballon Sculptures for children and adults. All of these simple animals can each be made with a single Sculpture Balloon. Once you learn the basic twists and locks, you will have fun using your animals, hats, and designs for birthday parties... or as an entertaining act. You can even earn money at parties making colorful sculptures for the guests. Add a fex other balloons and you can make a fruit basket, giant bumble bee, or party favors and other hanging or table decorations. There are even balloon games you can play alone or with friends.
Each easy-o-learn instructions is accompanied by clear, step-by-step drawings so that you can follow as you learn.
CONTENTS :
The balloons
Pencil Balloons
Blowing up the Balloons
Tying the Knot


Balloon twists
Basic Twist
Second and Third Bubbles
Lock Twist
Quick-Lock Twist
Apple Twist


Basic dog
The animals
Poodle
Dachshund
Giraffe
Rabbit
Mouse
Dobbin the Horse
Hobbyhorse
Easy Dog
Easy Poodle
Swan
Another Swan
Polly Parrot
Bumblebee
Hummingbird


Multiple balloons models
Octopus
"Texas" Bumblebee
Another Hummingbird
Parrot on a Swing
Penguin


Decorating with balloons
Fruit Basket
Bananas
Apples
Oranges, Lemons, Limes
Grapes, Cherries
Filling the Fruit Basket
Balloon Bow
Balloon Flowers
Tulips
Balloon Hats
Displaying Balloon Sculptures


Drawing faces and highlights
Games with balloons
Long Shot
William Tell
Into the Loop


Tips-patter-bits
Where to buy balloons
Using Your News Skills


Language : english - Format : 15,5 x 23 cm – Illustrated - 86 pages.




Return to the catalogue
This item is no longer
sold on Magicaplanet