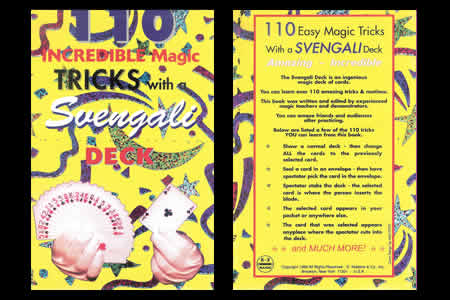 Description
The Svengali Deck is an ingenious magic deck of cards. You can learn over 110 amazing tricks & routines.
This book was written and edited by experienced magic teachers and demonstrators. You can amaze friends and audiences afeter practicing.
Below are listed a few of the 110 tricks YOU can learn from this book :
Show a normal deck – the change ALL the cards to the previously selected card.


Seal a card in an evelope – then have spectator pick the card in the envelope.


Spectator stabs the deck – the selected card is where the person inserts the blade.


The selected card appears in your pocket or anywhere else.


The card that was selected appears anyplace where the spectator cuts into the deck.



and MUCH MORE !




Format : 13,5 x 21 cm - 32 pages.




Return to the catalogue
This item is no longer
sold on Magicaplanet