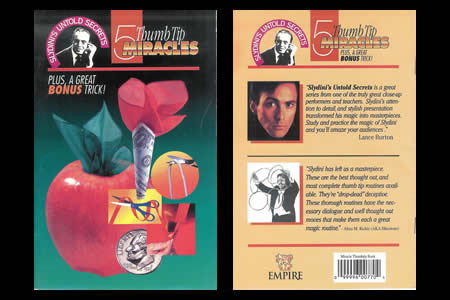 Description
SLYDINI's Five Thumbtip Miracles
Plus a Bonus Trick !
Contained herein, you will find six complete routines. Each routine is simple and easy to follow with a different plot. You can do them everywhere. No special apparatus is needed as they are nearly impromptu. Props are quickly put in place. Patter suggestions are provided. Each routine contains several idées and principles that may be used in other effects. Every move is carefully thought out to make it smooth and easy to do. These routines can be learned quickly by anyone, and they represent the beautiful magic of Slydini.
CONTENTS :
Restored ribbon

Miracle rope

Silk from a dollar bill

Adam and a rib

The coin guess

[Bonus] Flames to red ashes


Return to the catalogue
This item is no longer
sold on Magicaplanet