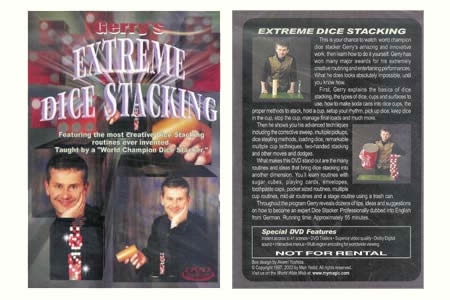 Description
This is your chance to watch world champion dice stalker
Gerry
's amazing and innovative work, then learn how to do it yourself. Gerry has won many major awards for his extremely creative routining and entertaining performances. What he does looks absolutely impossible, until you know how.
SUMMARY :

First Gerry explains
The basics of dice stalking
The types of dice
Cups and surfaces ti use
How to make soda cans into dice cups
The proper method to stack
Hold a cup
Setup your rythm
Pick up dice
Keep dice in the cup
Manage final loads
and much more.
Then he shows you his advanced techniques incjuding :
The corrective sweep
Multiple pickups
Dice stealing methods
Loading dice
Remarkable multiple cup technique
Two-handing stacking
and other moves and dodges.
What makes this DVD stand out are the ùany routines and ideas that bring dice stacking into another dimension. You'll learn routines with sugar cubes, playing cards, anvelopes, toothpaste caps, pocket sized routines, multiple cup routines, mid-air routines and a stage routine using a trash can.
Throughout the program Gerry reveals dozens of tips, ideas and suggestions on how to become an expert dice stalker.
English DVD.
Multi-region encoding.

Return to the catalogue
This item is no longer
sold on Magicaplanet