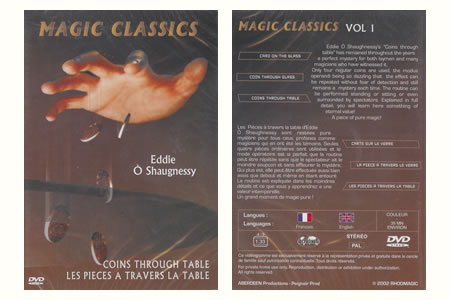 Description
Eddy Ô Shaughnessy
's
"Coins through table"
has remained throughout the years a perfect mystery for both laymen and many magicians who have witnessed it.
Only four regular coins are used, the modus operandi being so dazzling that the effect can be repeated without fear of detection and still remains a mystery each time. The routine can be performed standing or sitting or even surrounded by spectators.
Explained in full detail, you will learn here something of eternal value !BR>
SUMMARY :
Card on the glass
Coin through glass
Coin through table.

Language : English / French
Running time : about 35 minutes.
Multi-region encoding.

Return to the catalogue
This item is no longer
sold on Magicaplanet