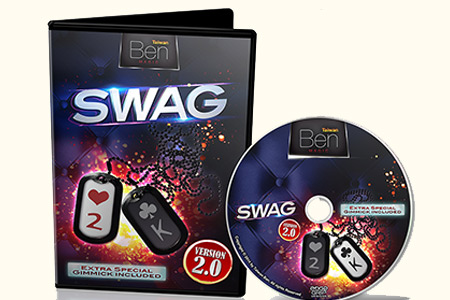 Description
Get your SWAG on!
SWAG 2.0 has taken this modern Classic to a whole new level!!! A spectator selects a card and commits it to memory. She is then handed the SWAG tag. She closes her hands around the tag and concentrates on her card. When she opens her hands she finds that the Tag has revealed her selection! This is just one of the many effects you can perform with SWAG!
Magic Happen In The Spectator's Hands!
You can also incorporate the SWAG tag into pre-existing routines. Drop it in water and watch it Visibly change! Put on the spectator's palm and watch it Gradually change! The Two (2) SWAG Tags are double sided so you can produce two different revelations. A NEW ingenious gimmick that truly turns this effect into a super visual routine.
No Electronics!
Resets almost instantly!
Great for street magicians, walk-around performers, mentalists and well, anyone... SWAG is a secret weapon that you take everywhere you go!
Includes:
1 SWAG Gimmick (Black)
1 SWAG Gimmick (White)
1 SWAG 2.0 Gimmick
1 DVD with multiple routines and effects.
"A great self-working miracle that you can carry with you anywhere, anytime. Don't leave home without your SWAG."
-Patrick Kun
"It's diabolical, It's clean, it's a world of options but the reason I like it so much.....It's badass!!"
- Bobby Motta
"A very nice update on this principle making it a modern routine!"
- Luca Volpe

Return to the catalogue
This item is no longer
sold on Magicaplanet