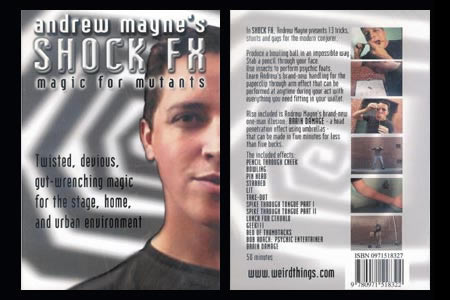 Description
In SHOCK FX, Andrew MAYNE presents 13 tricks, stunts and gags for the modern conjurer.
Produce a bowling ball in an impossible way. Stab a pencil through your face.
Use insects to perform psychic feats.
Learn Andrew's brand-new handling for the paperclip through arm effect that can be performed at anytime during your act with everything you need fitting in your wallet.
Also included is Andrew Mayne's brand-new one-man illusion : BRAIN DAMAGE - a head penetration effect using umbrellas that can be made in five minutes for less than five bucks.
The included effects :
PENCIL THROUGH CHEEK

BOWLING

PIN HEAD

STABBED

LIT

TAKE-OUT

SPIKE THROUGH TONGUE PART I

SPIKE THROUGH TONGUE PART Il

LUNCH FOR CTHUHLU

GEEK !!!

BED OF THUMBTACKS

BOB ROACH : PSYCHIC ENTERTAINER

BRAIN DAMAGE


Sale prohibited to the minors.


Return to the catalogue
This item is no longer
sold on Magicaplanet