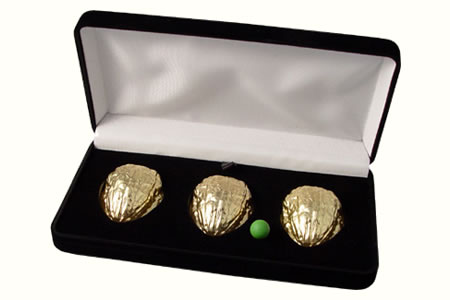 Description
A superb equipment to increase your effect !
This antediluvian trick can makes you feel happy or sad. Indeed, for many years, hucksters use it to steal money.
You have three shells on a table in front of you and you put a small ball under a shell. You displace slowly the shells and
the ball is in another shell
.
Do it again with only one hand,
the ball move again
.
Of course you can loan the equipment for examination.
Very easy to use.


A superb equipment.


With this golden shells, it is a spiffy device.


Delivered with 3 golden shells and 4 various colored balls and a shatterproof case.

Return to the catalogue
This item is no longer
sold on Magicaplanet