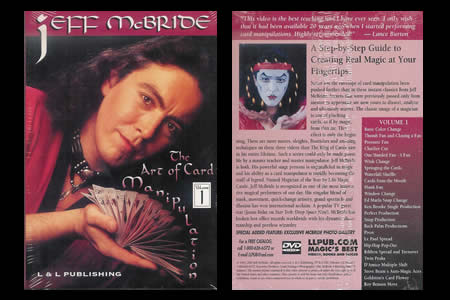 Description
Jeff McBride's The Art of Card Manipulation
showcases a modern day expert at his craft, teaching you how to perform pasteboard prestidigitation of a highly visual nature. This colorful, eye-catching collection of surprising magic, artful dodges and impressive flourishes has to be seen to be believed! In this three-part series, the video lecture format is utilized to its maximum potential, making it an excellent medium from which to learn this type of cardwork. This visual magic has novelty, flash and punch – all presented with style, charm and passion. Come face to face with an unmasked Mr
McBride
as he guides you through these classic card manipulations.
The audience appeal of this specialized branch of card conjuring is universal; it transcends all language barriers the effects are basic and easily understood, the plots (if any) are slim and uncluttered. This beautiful magic is a joy to watch.
Jeff McBride
puts it all at your fingertips!

Summary :
Basic Color Change

Thumb Fan and Closing a Fan

Pressure Fan

Charlier Cut

One Handed Fan – S Fan

Wink Change

Springing the Cards

Waterfull Shuffle

Cards from the Mouth

Blank Fan

Window Change

Ed Marlo Snap Change

Ken Brooke Single Production

Perfect Production

Snap Production

Back Palm Productions

Pivot

Le Paul Spread

Hip-Hop Pop-Out

Ribbon Spread and Turnover

Twin Peaks

D'Amico Multiple Shift

Steve Beam's Auto-Magic Aces

Goldston's Card Flower

Roy Benson Move.
English DVD.
Return to the catalogue