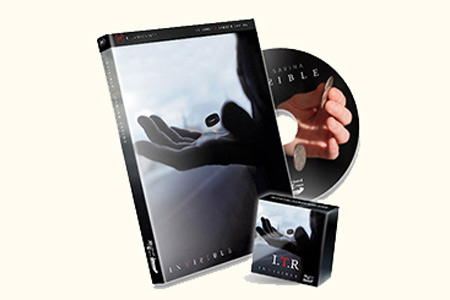 Description
Vous cherchez des effets impossibles qui resteront gravés à jamais dans l'esprit de vos spectateurs ?
Dans ce DVD, vous apprendrez pas à pas 6 effets » killers « . L'impossible est enfin à portée de main grâce à de nouveaux concepts qui vous permettront de présenter une magie pure et stupéfiante pour vos spectateurs.
La force des effets présentés dans » Invisible » est qu'ils sont impromptus : vous serez prêt à réaliser l'impossible à n'importe quel moment !
Au Sommaire :

The Ring
: voici l'effet phare du DVD qui a fait parler de Damien dans le milieu underground de la magie depuis plusieurs années. Une bague empruntée disparaît à vue pour réapparaitre dans votre main quelques instants plus tard. Vous la posez sur la paume de votre main et elle s'élève dans les airs de quelques centimètres. Le spectateur peut la pousser lui-même : la bague se déplace littéralement dans les airs ! Le climax est ahurissant : le spectateur peut reprendre sa bague alors qu'elle est encore en lévitation… et tout peut être examiné ! (Et bien sûr, vous êtes prêt à refaire l'effet immédiatement !)
The Haunted Deck
: vous découvrirez dans le DVD trois variantes du célèbre effet du jeu hanté, dont le potentiel a ici été poussé à son maximum : le moins de mouvements possible… pour un impact sans précédent sur les spectateurs !
The Pen
: et si vous défiez les lois de la pesanteur ? Voici un classique de la magie revisité en trois phases : un stylo emprunté se colle tout autour de votre main… pour finalement tenir en équilibre dans des conditions totalement impossibles.
The Flying Coin
: le Three Fly popularisé par Chris Kenner atteint ici la perfection grâce à un finale incroyable : la dernière pièce vole en effet à vue d'une main à l'autre ! Les spectateurs seront persuadés d'avoir rêvé tellement cet effet est fort… et ils vous en reparleront encore pendant très longtemps !
Vous apprendrez facilement ces effets grâce aux explications détaillées du DVD ainsi qu'au livret de 12 pages contenant de nombreux conseils et astuces.
Le DVD en français et anglais
Le gimmick ITR fabriqué par James George
Booklet de 12 pages en français et anglais (idées, conseils, sources, etc.)

Return to the catalogue