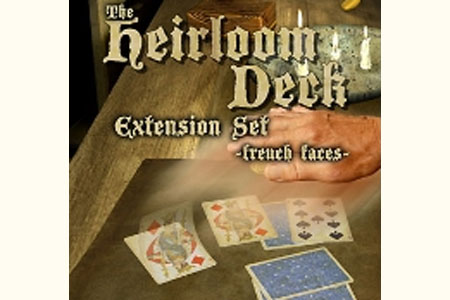 Description
Here comes the perfect addition for your Heirloom Deck.
As the Heirloom Deck comes in several variations (french or anglo-american faces, red or blue backs), there are actually two different Extension Sets (not 4!) available:
- Extension Set with french faces and blue backs
- Extension Set with anglo-american faces and red backs
With these gaffed cards you get the possibility to perform many classic magic effects together with the Heirloom Deck. The extension set contains several gaffed cards together with a very clever Wild Card effect from Joerg Alexander (The Flicking Fingers) where several cards will transform in a very visual way directly out of the Heirloom Deck!
These are the gaffed cards you will get:
- misindexed Jack of Spades / Clubs
- misindexed Jack of Hearts / Diamonds
- misindexed Queen of Spades / Clubs
- misindexed Queen of Hearts / Diamonds
- misindexed King of Spades / Clubs
- misindexed King of Hearts / Diamonds
- double blank card
- blank face card with red back
- blank face card with blue back
- double back card red / red
- double back card red / blue
- double back card blue / blue
- double faced card Nine of Spades / Nine of Spades
- double faced card Jack of Hearts / Queen of Hearts
- double faced card Ace of Spades / 3 of Hearts (Mc Donald´s Aces)
- double faced card Ace of Hearts / 7 of Clubs (Mc Donald´s Aces)
- double faced card Ace of Clubs / King of Diamonds (Mc Donald´s Aces and Joerg Alexander´s Wild Card)
- double faced Ace of Diamonds / 5 of Spades (Mc Donald´s Aces)
- double faced card Jack of Hearts / King of Diamonds (Joerg Alexander´s Wild Card)
- double faced card 6 of Diamonds / King of Diamonds (Joerg Alexander´s Wild Card)
- 2 additional cards King of Diamonds (Joerg Alexander´s Wild Card)

Return to the catalogue